Marshmallow Fudge Bark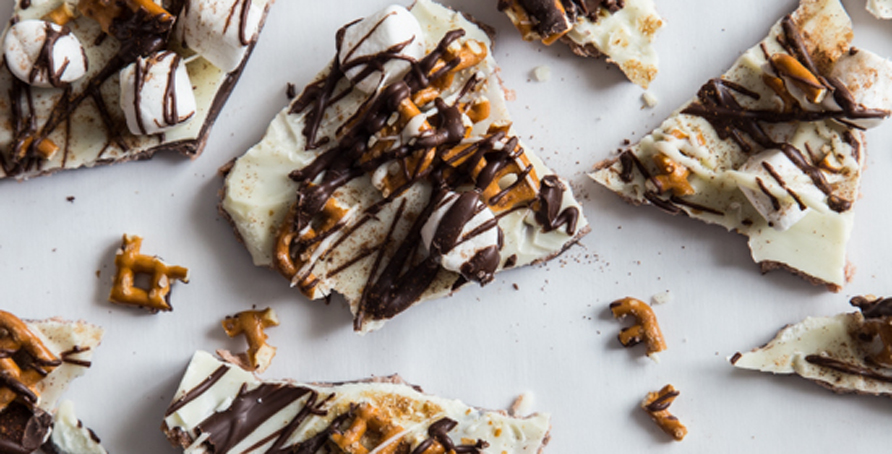 Marshmallow Fudge Bark is an easy, flavorful treat for any time of year! This recipe is also very versatile, so you can add in the flavors you love best.
Last night, as I was tucking the Buddy into bed, I realized that this week is his last week of school before Christmas vacation starts. After mentioning it to him, we both sort of looked at each other and were a little stunned. He was thrilled, clearly, but all I could think is, "How can we already be so close to Christmas?" I think so much negative emphasis has been put on how early everyone starts thinking about the holidays, but I for one am glad it starts early. If we waited until December 1st, I would be crushed that I only got to enjoy a few weeks of Christmas music, our tree and *gasp* holiday baking.
And that would be tragic.
Last Monday, I got together with my mom and sisters and we had our annual holiday baking party/exchange. True to form, I was terribly unprepared and decided to whip up a few no-bake treats to share. Knowing that we were starting early enough in the month, I realized that I would probably have to do some more baking closer to Christmas to make sure we had some treats all the way through. It took some serious pressure off and allowed me to experiment with some new recipes. This Marshmallow Fudge Bark was one of them.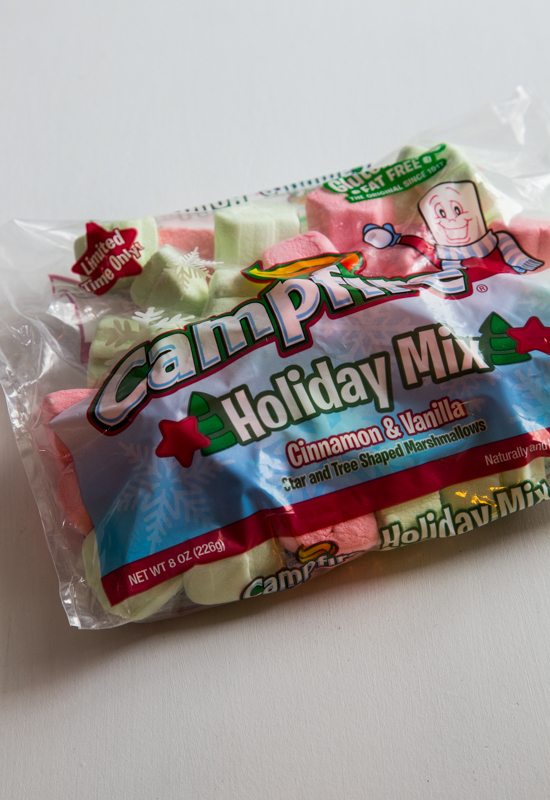 I have always wanted to try making fudge from marshmallows and have been coming across recipes for years. But for me, plain old fudge didn't seem quite exciting enough for our exchange, so I decided to take the marshmallow fudge and turn it into the center layer in a fabulous holiday bark.
I seriously love no-bake recipes, especially barks. They are so forgiving and completely adaptable to what you have on hand. In the past I've used matzo crackers as the base for some pretty spectacular bark, but this time, I wanted it to be extra chocolatey so started with a base of melted candy wafers.
C loved getting in on the action of spreading the melted wafers, although she disappeared to watch Frosty the Snowman while the fudge was chilling and didn't return until it was over. That's what happens when your sous chef is five.
For the marshmallow fudge layer of this holiday bark, I used the new Campfire® Marshmallows Holiday Mix which is a combination of cinnamon and vanilla flavored marshmallows in the shapes of stars and trees. They are super adorable and went over extremely well with the kiddos. The cinnamon of the marshmallows is great for the fudge layer. I added a bit of cardamom to increase the warm flavors of the fudge.  If you can't find the holiday mix marshmallows, you can use 4 ounces of Campfire® Marshmallows mini marshmallows or regular marshmallows and add a bit more cinnamon.
This bark is so easy, but such a crowd pleaser. It's chocolatey and full of marshmallows, both in the bark layer and on top with a sprinkling of the Campfire® mini marshmallows. The pretzels add crunch and a bit of saltiness that keep the bark from being too sweet, although it is quite a sweet treat. You can play around with your flavors by adding nuts or dried fruit to the top. Either or both would be delicious!
This bark was such a hit, that C decided it would be our official treat for the jolly guy this year. She's already preparing for the big night, as  you can see.
And as much emphasis as we put on cookies for Santa, the kids never forget to put out carrots for the reindeer. Although I'm thinking that the reindeer will want a bit of this marshmallow fudge bark, as well.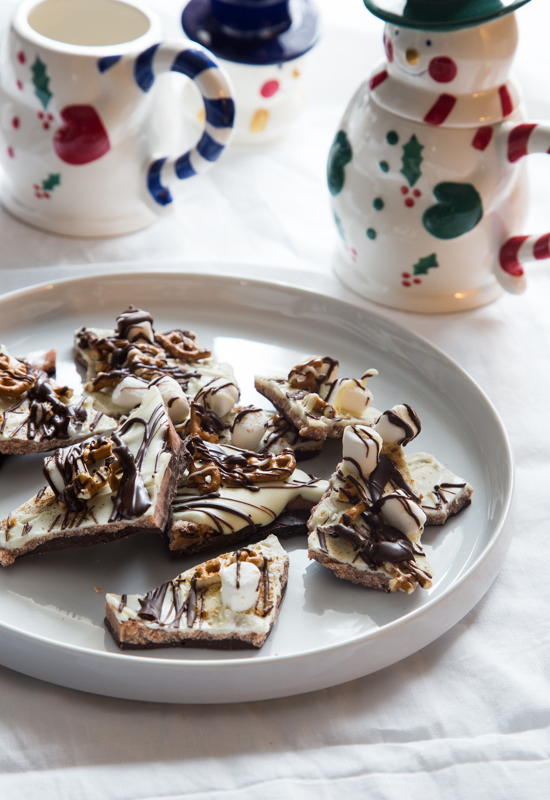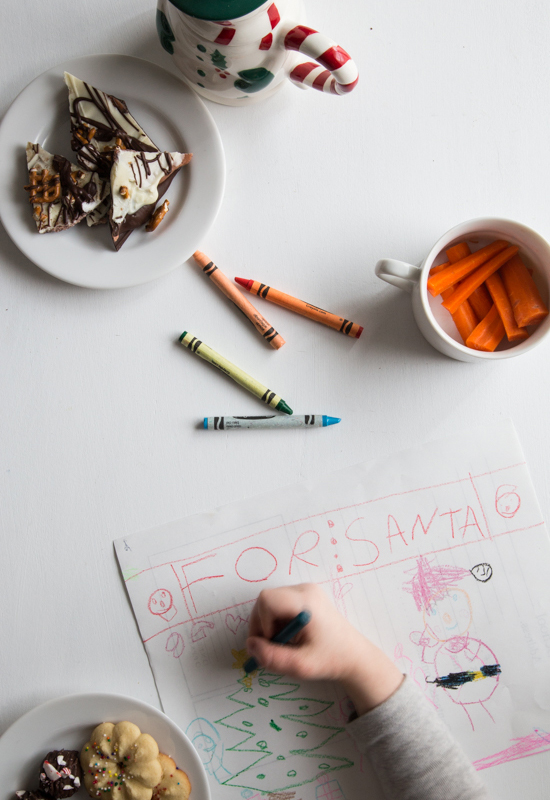 Check out a few of our other holiday ideas like this Holiday Marshmallow Garland, or these adorable Mini Marshmallow Trees! You can always find more marshmallow goodness on our Pinterest page or on our website: CampfireMarshmallows.com!
We love seeing photos of your recipes and how you "Make it with Marshmallows!" so be sure to share your photos with us on Facebook, Instagram and Twitter.
Blog post contributed by: JellyToast