S'mores Skillet Brownies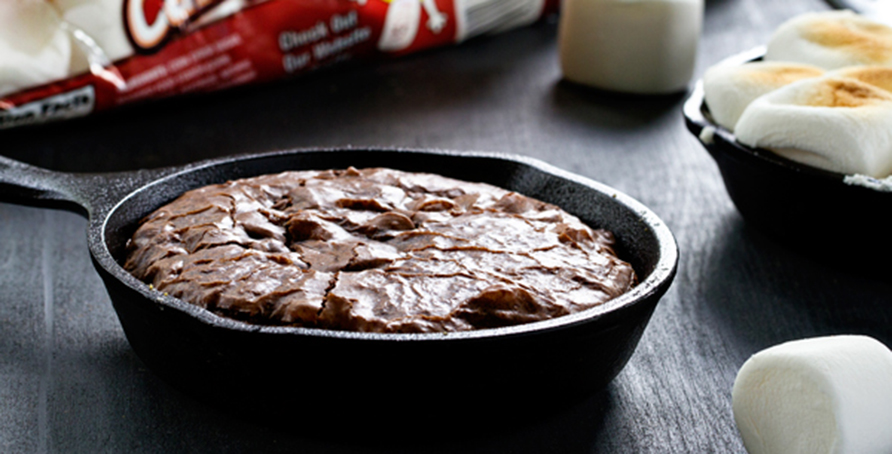 S'mores Skillet Brownies have a graham cracker crust topped with a layer of fudgy brownies and perfectly roasted marshmallows. Loaded with ooey-gooey goodness, what's not to love?
We just returned home from a road trip to Connecticut to visit Eric's family. And let me tell you, I was all kinds of apprehensive about cruising across a few states with a toddler.
Thanks to countless episodes of Doc McStuffins and a box of fruit snacks, I'm happy to report we all survived the road trip. In fact, I'll even admit that it was kind of fun, but man, did I learn that Pennsylvania is pretty much the longest state ever and their 2-lane highway structure is for the birds.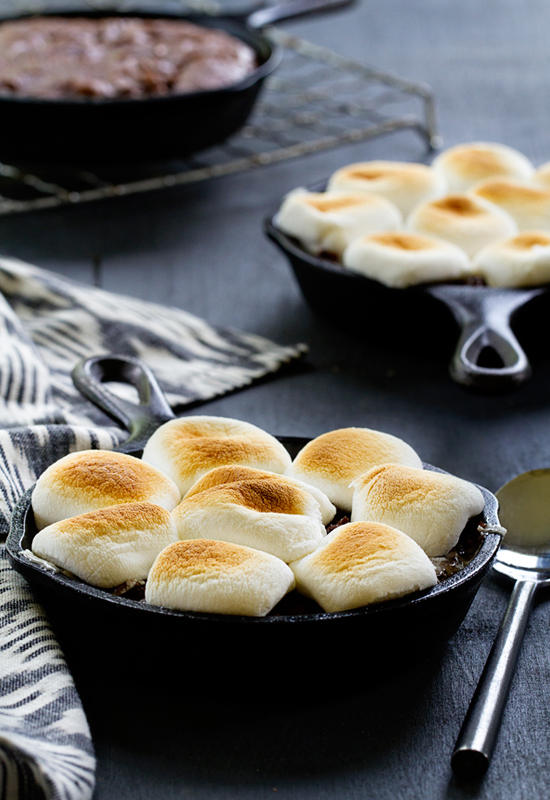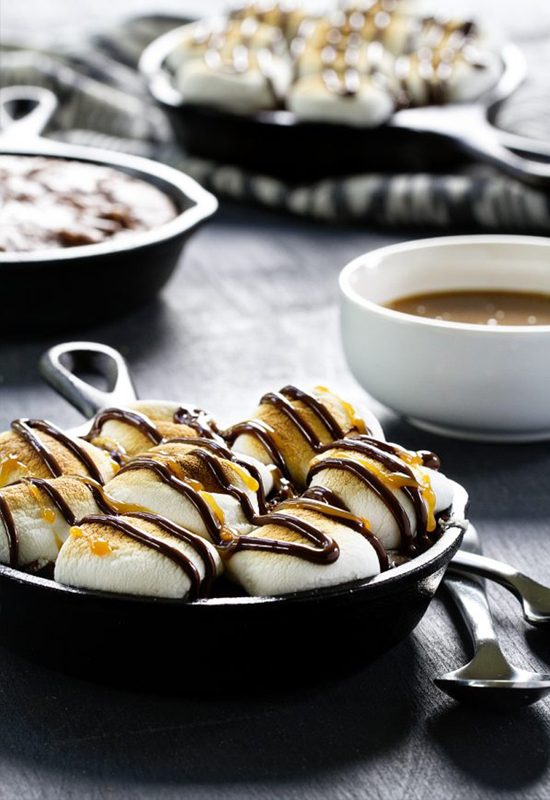 Although our trip was only a few days long, we managed to pack in loads of family time which included swimming, Elle chasing after her cousin's chickens, and her first experience at a bonfire, complete with fireworks and s'mores. Elle loves s'mores, but let's just say a roaring fire isn't on her top 5 favorite things list. Toddler anxiety is a thing, you guys.
When we got home, I was craving s'mores (let's face it, this has been an on-going thing since I was pregnant with Elle), so I decided to whip up a batch of S'mores Skillet Brownies. I'm kind of a sucker for anything baked in cast iron skillets, especially if they happen to be mini skillets.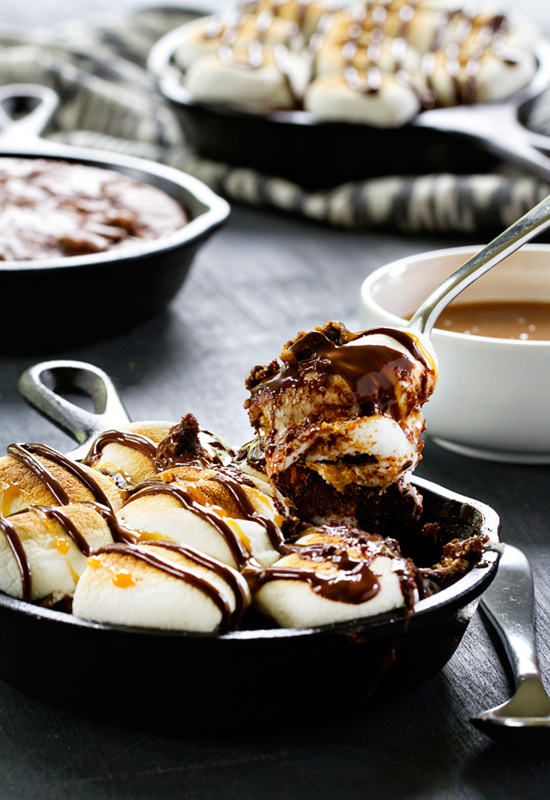 I created a buttery graham cracker crust layer, followed up with a layer of brownie batter. Then I topped everything off with roasted Campfire® Marshmallows and a drizzle of salted caramel syrup to create one heck of a dessert.
And I'm going to let you in on a little secret, I totally used my favorite boxed brownie mix for this recipe. But if you're not into going the boxed route, just substitute in your favorite from-scratch recipe. I promise whichever route you take, you'll be in love with these S'mores Skillet Brownies as much as I am.
Campfire®'s Giant Roasters would be great in this recipe, but pretty much any of their regular marshmallows are going to work here. Go with the Giant Roasters for a wow factor, or the minis for a prettier speckled look with lots of variation in how toasty the marshmallows get.
Be sure to check out CampfireMarshmallows.com and follow us on Pinterest for more fun and festive recipes and crafts! If you liked this s'more recipe, try the Turtle S'mores or the S'more Waffles!
We love seeing photos of your recipes and how you "Make it with Marshmallows!" so be sure to share your photos with us on Facebook, Instagram and Twitter.
Post contributed by: MyBakingAddiction