No Bake Marshmallow Cheesecake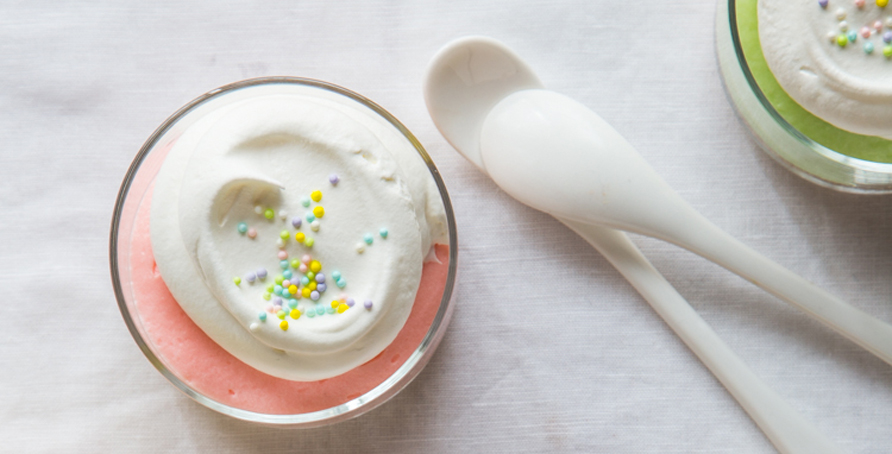 These colorful No Bake Marshallow Cheesecakes can brighten any rainy or cold spring day!
After having lived in Ohio for 32 years you think that I would have learned by now that weather at anytime of the year is extremely unpredictable. You might need a sweater in July and shorts in October. You just never know. A few weeks ago, I discovered a crack in the toe of my big winter boots that have been serving me well these last few years. In a fit of optimism and rare tidying, I tossed them into the garbage thinking two things: cracked snow boots were not going to be much help and chances are it won't snow again anyway.
How naive can I be?
Well, my first thought was right as there is nothing comforting about wet, cold toes. But unfortunately, my second thought was a bit off base. Pulling out of my garage this morning I was greeted with a slush storm that resembled falling, melted snow cone. It was as pleasant as it sounds. Then, halfway through our 10 minute drive to school it turned into bonafide snow fall and by lunch time, there was a layer of snow on the ground. Not much, but enough considering it's March 26th.
There wasn't a whole lot I could do but laugh and try to figure out if an umbrella or a winter hat was the more appropriate defense against what was falling from the sky. On the walk into school we were greeted by countless parents who would catch each others eyes with a bemused expression as if to say, "Can you seriously believe this?" I knew I wasn't the only one who was looking forward to heading home or off to work to bolster themselves with a cup of coffee and some serious thoughts of Spring.
C and I went back home, and after starring out the window at the gray sky and falling snow, we decided we needed to whip up something that would bring a little Spring to our house. And nothing was more Spring-y in my house than my bag of Campfire® Marshmallows EggSwirlers.
You may remember these colorful little marshmallow eggs from last year when I made Marshmallow Easter Eggs but let me remind you of how awesome these are. First, they're straight up gorgeous.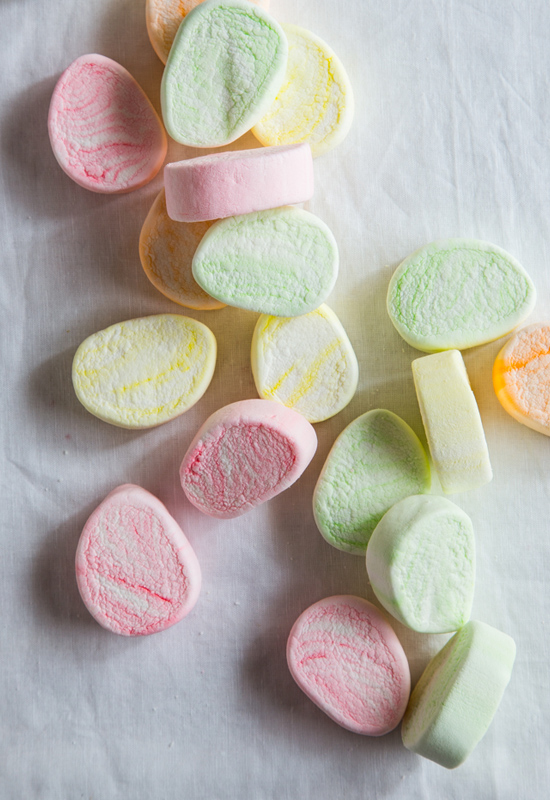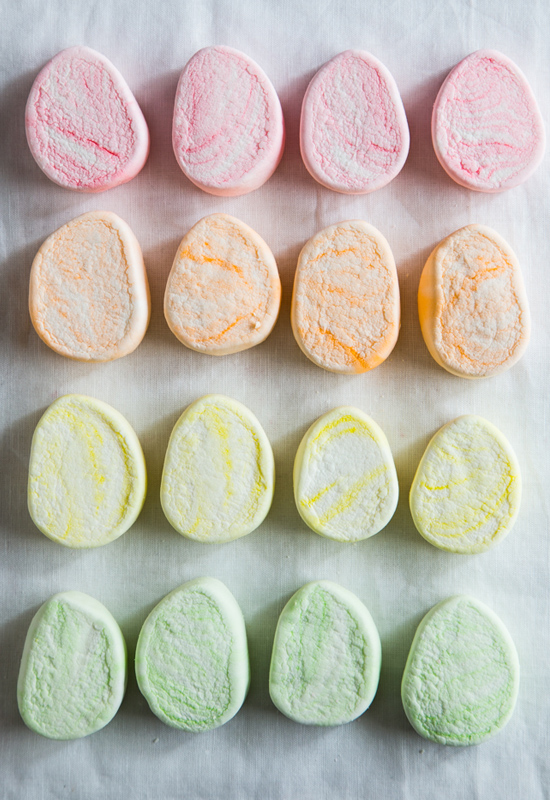 Secondly, their flavors are incredibly delicious, light and fluffy in texture. The orange is my favorite and it's like eating a creamsicle. C loves the pink and every year when the EggSwirlers come pop up in stores (I found mine at Walmart) we get so excited and stock up on several bags: some for snacking and some for making into fun desserts.
Today was a "make into a fun dessert" kind of day. We needed a little cooking therapy, but also had critical activities on our to do list that included "playing with My Little Pony dolls" and "catching up on the new episode of Odd Squad". We're talking majorly important tasks.
Have you seen the show, Odd Squad, by the way? It's hilarious and totally up my kids' ally.
Due to our pressing activity schedule, I wanted to make something simple, but tasty. We opted for individual No Bake Marshmallow Cheesecakes. They start with simple graham cracker crust and are a filled with a mixture made with melted EggSwirler marshmallows, cream cheese and whipped topping. This recipe couldn't be simpler to make! All in, they take 20 minutes, plus some time in the fridge to let them set.
The final cheesecakes are sweet, but not too sweet. The marshmallows give the no bake cheesecakes a pillowy texture that is almost mousse-like. The flavors of the EggSwirlers give these little cheesecakes so much personality, plus everyone can pick their favorite flavor with no extra work for you. How fun is that? These have Easter dessert written all over them. And the best thing ever is that they totally brightened up our gray, soggy day.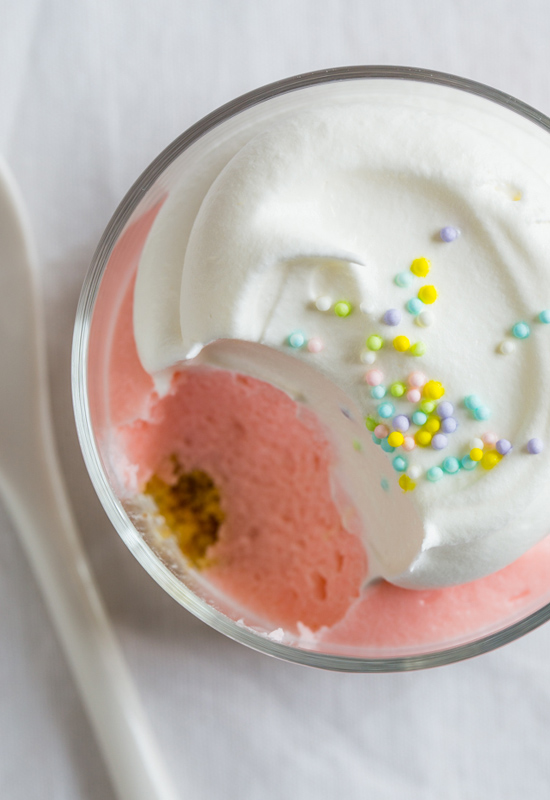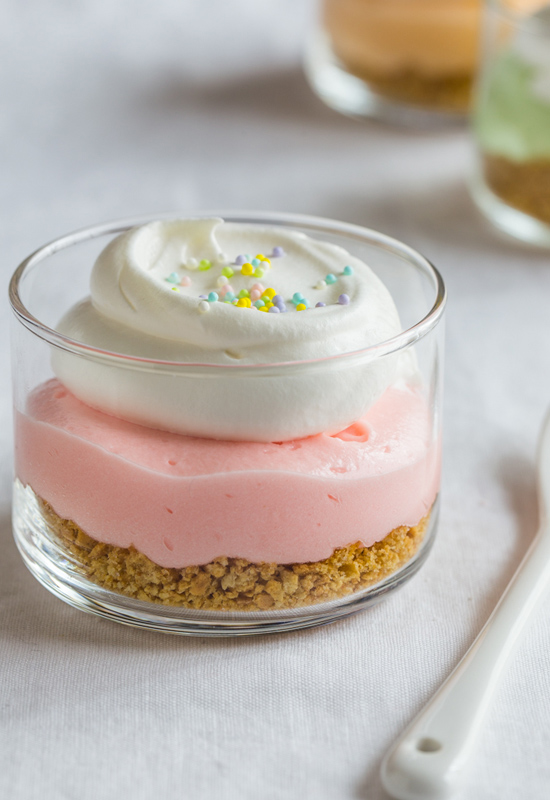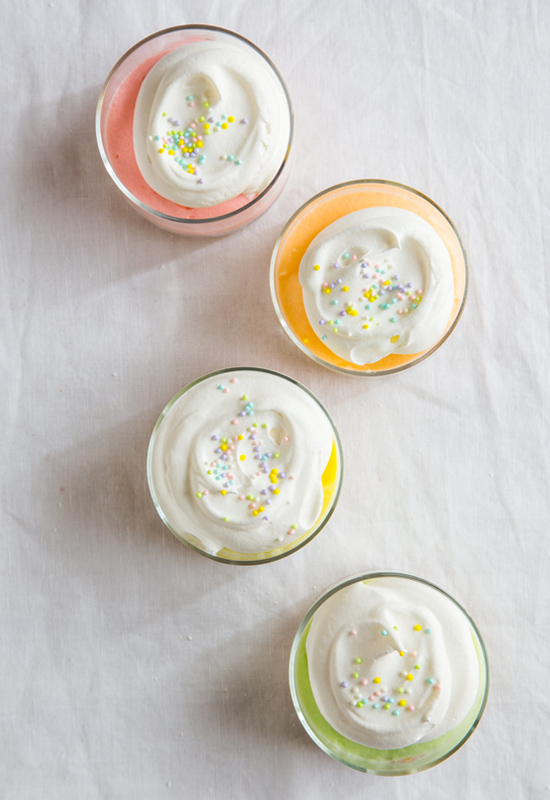 It's hard to ask more than that, right?
Here are my tips for making these mini no bake marshmallow cheesecakes:
Divide the bag of EggSwirlers into the four colors. Sounds tedious but it takes all of 10 seconds and is totally worth it to keep flavors un-muddled. C took that job; she loved sorting the colors into 4 microwave safe bowls. Easy peasy.
When mixing the cream cheese and melted marshmallows, there will come a moment when you might look at the consistency and think that something went wrong. Don't panic! Keep stirring gently and fold in the whipped topping until the mixture is fluffy looking and smooth in color. It worries me every time I make these, but it always works out.
 Use a honey drizzle or a push-up pop plastic tube bottom to tamp down the graham cracker crust. The both work great!
These can be made in small 4-ounce mason jars or these little Just Desserts Mini Bowls from Libby that I use all. the. time. Seriously, they are amazing for desserts!
For more colorful spring ideas, be sure to try the Rainbow S'mores Skillet and the Hawaiian Marshmallow Salad! For more fun and festive recipes and crafts go to CampfireMarshmallows.com and follow us on Pinterest!
We love seeing photos of your recipes and how you "Make it with Marshmallows!" so be sure to share your photos with us on Facebook, Instagram and Twitter.
Blog post contributed by: JellyToast