No Bake Cookie Dough S'mores Cheesecakes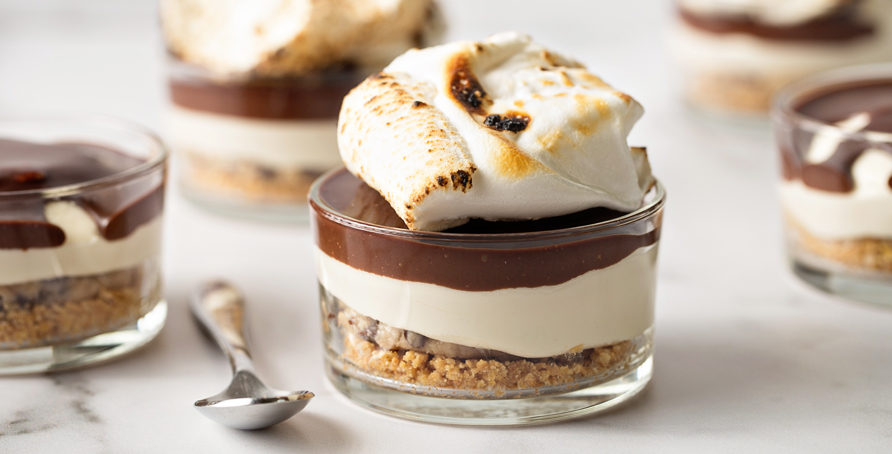 Cookie Dough S'mores Cheesecakes are a no-bake treat that combines everyone's favorite desserts into one. Get the family gathered around the campfire to finish these off with a perfectly toasted giant marshmallow!
I seriously can't wrap my head around the fact that it is already August. I have no idea where the summer went, but if I'm being honest, I'm sort of ready for fall.
Now before you roast me, I'm not wishing away the remaining weeks of summer with my sweet girl, I simply love everything about fall and I'm not mad that it's right around the corner.
Since the weather has finally chilled out here in Ohio, we've been spending many of our evenings eating dinner on the patio followed by roasting marshmallows for s'mores.
We've been getting pretty creative this summer with different toppings, chocolates and cookies, but my absolute favorite creation this summer was one that Elle dreamed up.
Cookie Dough S'mores.
Basically two graham crackers,  a layer of edible cookie dough, a perfectly toasted marshmallow and a piece of milk chocolate. Pretty much s'mores perfection, folks.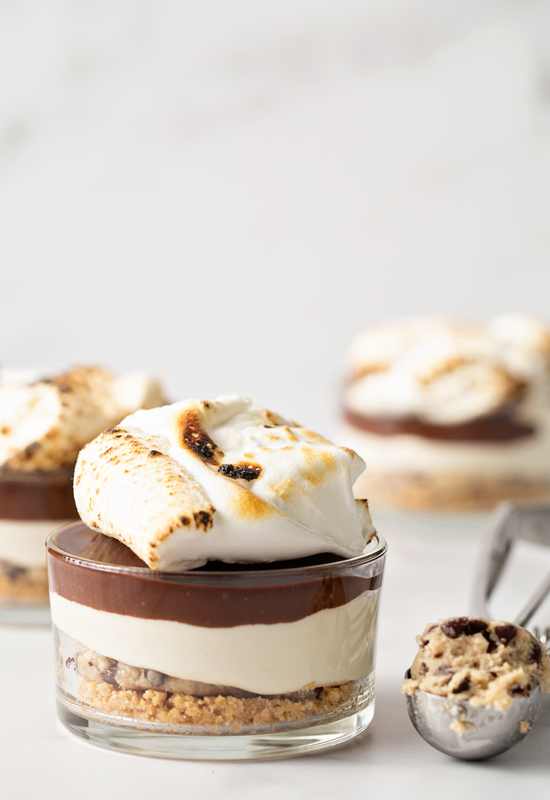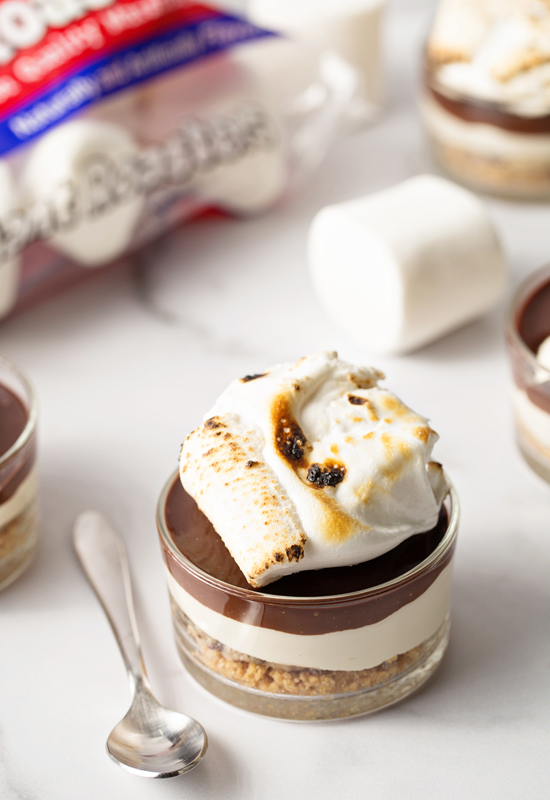 COOKIE DOUGH S'MORES CHEESECAKE: THREE DESSERTS IN ONE
The very first time I made my No Bake S'mores Cheesecake, it was an instant hit.
I mean, who can resist a cute mini dessert? Especially one that combines s'mores and cheesecake into one bite and are super easy to make.
I eventually realized that the only way to improve on the original recipe was to tap into Elle's new edible cookie dough obsession and add into the mix.
Let's take stock of all of the elements here:
Buttery graham cracker crust? Check.
Creamy, marshmallowy cheesecake filling that's full of Campfire® marshmallows? Check.
Chocolate-chip-studded edible cookie dough? Check.
Toasted Campfire® Giant Roaster marshmallow on top? Check check check.
Not a single thing about making this recipe is difficult or time-consuming and they're great to make ahead of time. Just store the cheesecakes in the fridge until you are ready to serve and finish with the toasted marshmallow.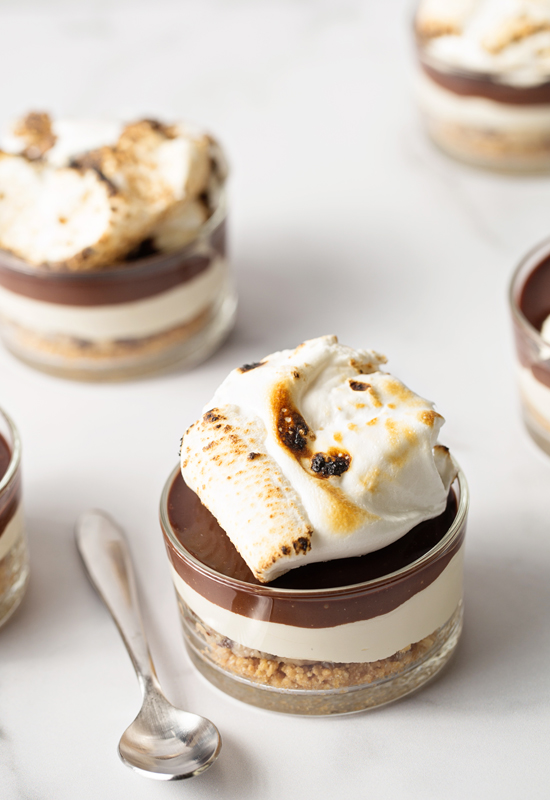 THE FINISHING TOUCH
Because they're so easy to make AND make ahead, these No Bake Cookie Dough S'mores Cheesecakes are great for a party for family get-together. Especially one with a bonfire!
I don't know about you, but our family likes to gather around the bonfire and make s'mores as the sun is setting. Between the lightening bugs and glowing fire, it makes for a pretty perfect end-of-summer evening.
Bring out a tray of these mini Cookie Dough S'mores Cheesecakes and a bag of Campfire® Giant Roasters and let everyone toast their own marshmallow for topping their cheesecake.
That way everyone from the "barely toasteds" to the "burn it to a crisp" marshmallow lovers will be totally happy.
Looking for more recipes that can pull your family together around the campfire as summer draws to a close? I've worked with Campfire® over the years to create loads of ooey-gooey marshmallow recipes, just like these No Bake Cookie Dough S'mores Cheesecakes, including Toasted Hazelnut S'mores and Chocolate Chip Cookie S'mores.
Enjoy getting in and outside of the kitchen with your family as you make and eat Cookie Dough S'mores Cheesecake. They'll be the proverbial cherry on top of your summer!
For more fun and festive recipes and crafts go to CampfireMarshmallows.com and follow us on Pinterest!
We love seeing photos of your recipes and how you "Make it with Marshmallows!" so be sure to share your photos with us on Facebook, Instagram and Twitter.
Post contributed by: My Baking Addiction