Mini Vanilla Bean Cakes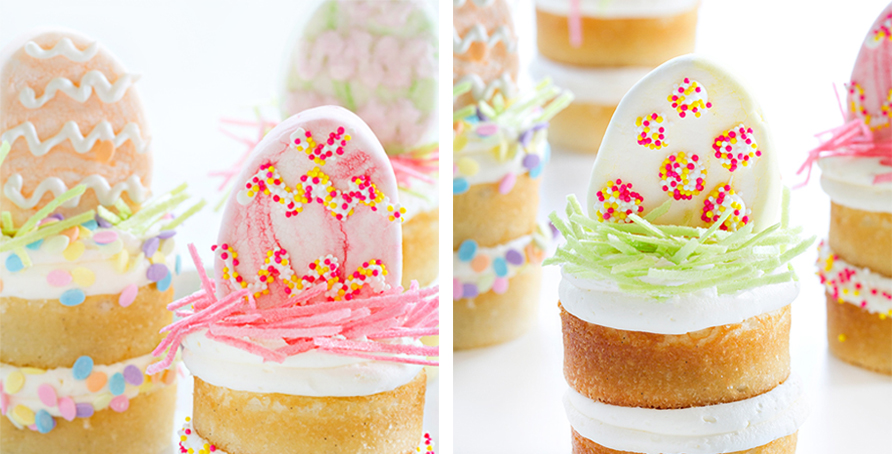 Mini Vanilla Bean Cakes are topped with edible Easter grass, pastel sprinkles, and an egg shaped marshmallow. So fun!
I don't know about you, but I feel like Easter kind of snuck up on me this year. Maybe it's the fact that it falls in March this year, or that it's still hovering around 32 degrees here Ohio. I'm kinda thinking it's a combination of both.
Elle is actually super excited about Easter this year due to her love of plastic Easter eggs. If you have a toddler, you may have come across the whole toy-stuffed-inside-plastic-egg videos on YouTube. And if you haven't, consider yourself lucky. She's been stuffing her little Peppa Pig figurines inside eggs for a solid week now and hasn't tired of it yet.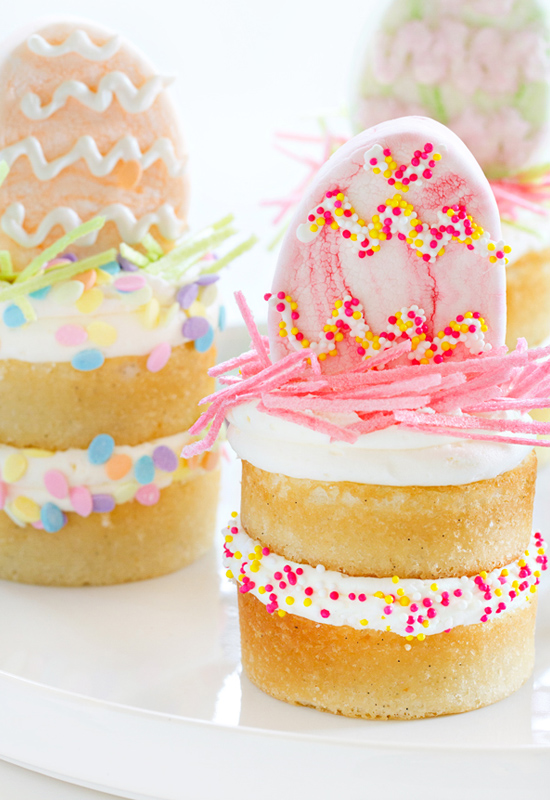 Clearly Elle has a thing for eggs considering she absolutely adores Campfire® EggSwirlers. They're super cute, egg-shaped, fruit flavored marshmallows that are fun to snack on – orange is my fave, – and decorate Easter desserts like these Mini Vanilla Bean Cakes.
Cute little layers vanilla bean flecked cake are sandwiched together with vanilla buttercream and topped with festive Easter decorations. Edible Easter grass, pastel sprinkles and Campfire® EggSwirlers make them as fun and festive as they are delicious.
For more springtime ideas, be sure to try the Rainbow S'mores Skillet and the Hawaiian Marshmallow Salad! For more fun and festive recipes and crafts go to CampfireMarshmallows.com and follow us on Pinterest!
We love seeing photos of your recipes and how you "Make it with Marshmallows!" so be sure to share your photos with us on Facebook, Instagram and Twitter.
Post contributed by: My Baking Addiction