Marshmallow Ice Cream Pie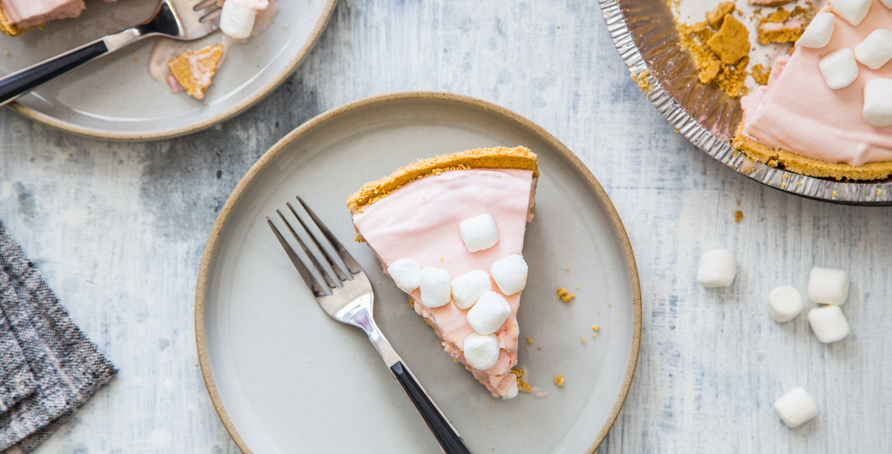 Marshmallow Ice Cream Pie is light, fluffy, and the perfect dessert to combat those hot summer days. Just a few ingredients to make this homemade marshmallow ice cream pie including Campfire® Cherry Roasters.
July has been a tricky month, guys. I've had a lot of behind the scenes work that hasn't shown up here on the blog, but we also have been hard at work with our kitchen mini-renovation (take a look at our design inspiration!) That has meant appliances being disconnected, weeks without countertops or a sink, and just a general feeling of construction zone and incompletion.
The last week we have made some great progress in that area and our countertops are installed and we are now moving onto our brick island feature and our subway tile backsplash. I'm so geeked about the tile backsplash I can hardly stand it.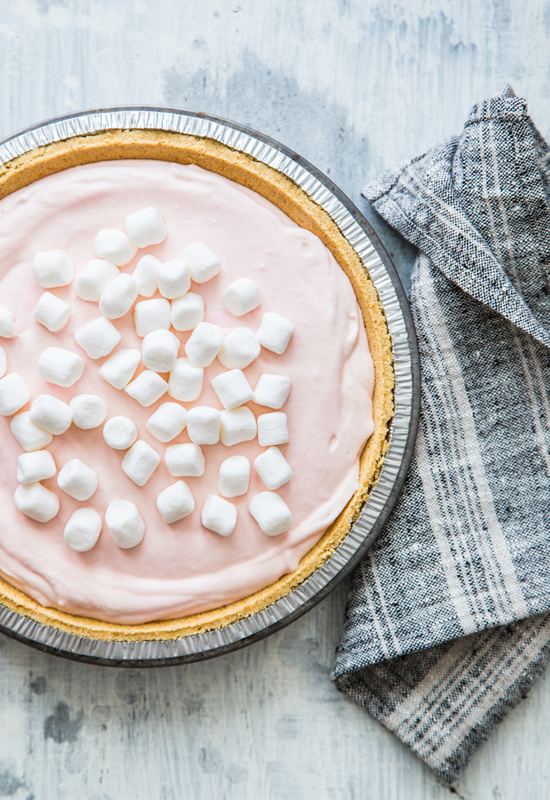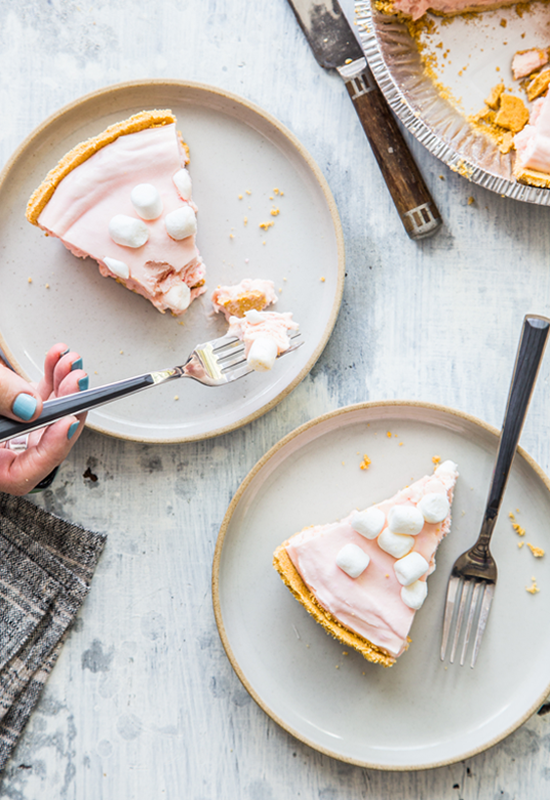 My dream of living in a coffee house is finally becoming a reality.
I have weird dreams.
Renovation or not, we still gotta eat. I have declared this the 'summer of independence' which translates to the kids getting their own breakfast and sometimes lunch. I'm still on dinner duty most of the time, but often tag-team my husband for grilling.
We have grilled about 4 times a week all summer long (kabobs, anyone?). The other 3 days of the week tend to consist of breakfast for dinner or takeout.
I told you July has been tricky.
I was feeling a little guilty this week over my lack of cooking so I decided to do something special and make a dessert. Turning on the oven was out of the question (mostly because it wasn't even hooked up) so I decided to make a super easy frozen Marshmallow Ice Cream Pie. The marshmallow ice cream filling is made using the same method as my marshmallow no-churn ice cream but this time I used Cherry Roasters from a bag of Campfire® Red, White & Blue Roasters.
I am crazy about these new cherry flavored roasters! First, the shape makes them perfect for roasting and sandwiching between graham crackers, but even better is the bursting cherry flavor. These Cherry Roasters are naturally flavored and colored giving them a lovely subtle pink blush color.
To make the filling for the marshmallow ice cream pie, there is no need to break out the ice cream machine. Just whip up some whipping cream, melt some of these Cherry Roasters, and fold it all into a can of sweetened condensed milk. This recipe makes two pies. I put them together in the morning and we had one one night and had an extra for later in the week.
A few mini marshmallows topped off these fluffy, dreamy marshmallow ice cream pies.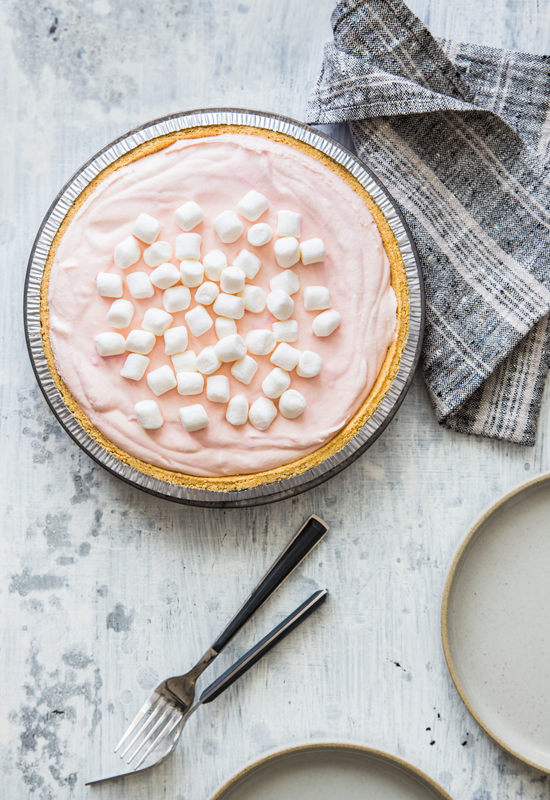 These pies could be mixed up with all sorts of flavors depending on what kind of marshmallows you use. Campfire has a ton of great flavors to choose from. Be sure to check them out!
Happy Monday!
For more fruity marshmallow dessert recipes, be sure to try the Strawberry Banana Pudding Cupcakes and the Cherry Brownie S'mores! For more fun and festive recipes and crafts go to CampfireMarshmallows.com and follow us on Pinterest!
We love seeing photos of your recipes and how you "Make it with Marshmallows!" so be sure to share your photos with us on Facebook, Instagram and Twitter.
Blog post contributed by: Jelly Toast