Marshmallow Dipped Ice Cream Cones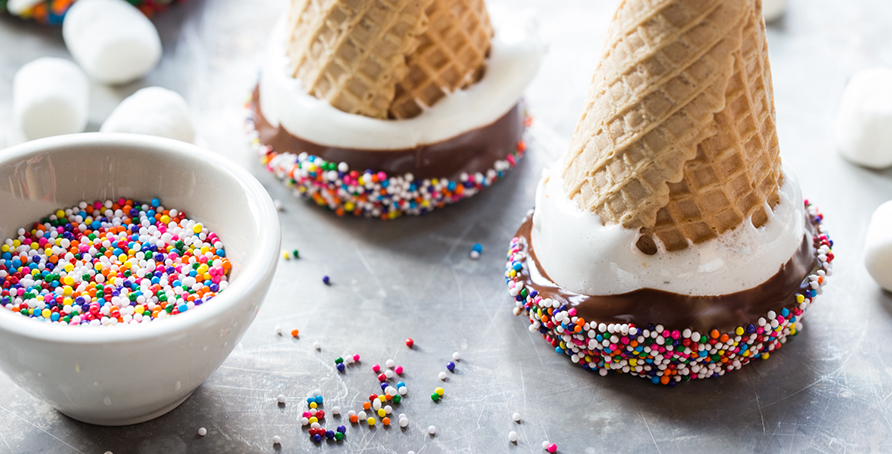 These colorful Marshmallow Dipped Ice Cream Cones are a great, DIY summer treat that come with all the taste an ice cream shop delivers!
Summer time!! Ok, I am jumping the gun by about a week, but I think we can all agree that the good ol' summer feeling has made it's grande entrance. We are finishing up our first week of summer vacation, but I know a few of you have kiddos that are finishing up this week. Whether you have been on break for a couple weeks or are just beginning the adventure that is sleeping in and lazy days, you are going to love these marshmallow dipped ice cream cones.
I think it's hard to go wrong with marshmallows, chocolate, and sprinkles – right? The kids and I were grocery shopping at the beginning of the week and the A spotted some sugar cones and oh-so-very-sweetly asked me if we could get some to take home. Knowing his endless love of ice cream I thought, "sure, why not?" and we picked up a couple of boxes. It's weird that I don't often buy ice cream cones to have at home because anytime that we go out for ice cream, I ALWAYS order a cone. Always.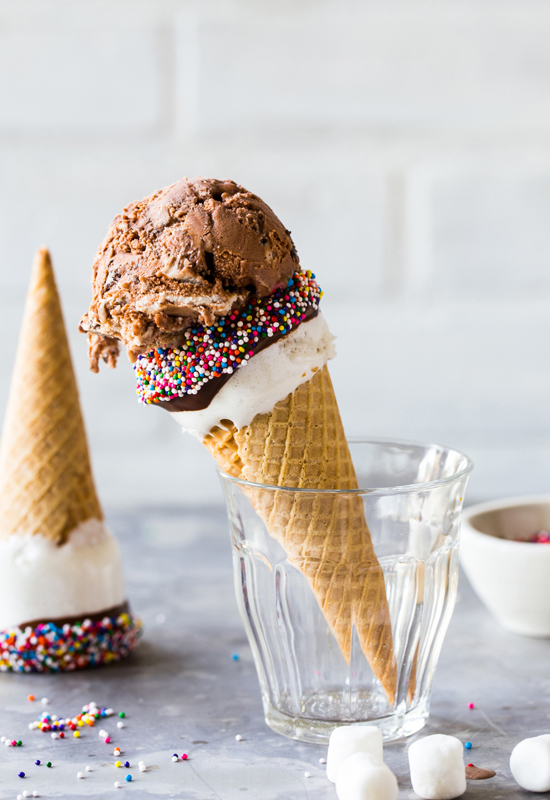 I'm just not a dish kind of girl.
I'm more of a deluxe-dipped-cone-with-lots-of-toppings kind of girl. Now you know all of my deepest ice cream secrets. I think that makes us best friends.
What I love about these marshmallow dipped ice cream cones, is that they can make me that deluxe cone girl in my very own home. To make them, I melted Campfire® mini marshmallows in the microwave with a slash of water and stirred until they were smooth and melty.  I then dipped the rim of a cones in the melty marshmallow, then melted chocolate and finally some festive rainbow sprinkles.
Random thought, but is there such a thing as a sprinkle emoji?
Ok, I just checked and no, there isn't. I feel like that is something that should exist.
But, back to these cones!
The gooey marshmallow layer topped with the melted chocolate gives these marshmallow dipped ice cream cones a s'mores like flavor which pretty much goes with any kind of ice cream I can think of. Orange sherbet? Amazing! Mississippi Mud Pie? Perfection! Butter Pecan? You betcha!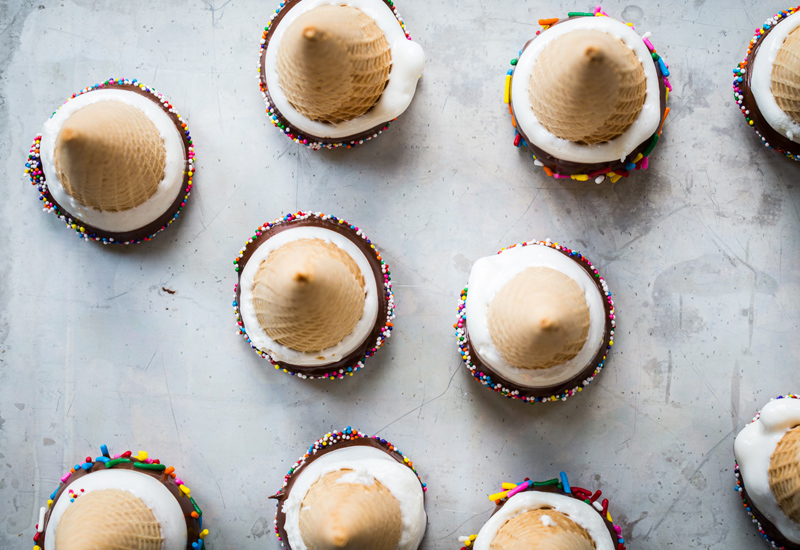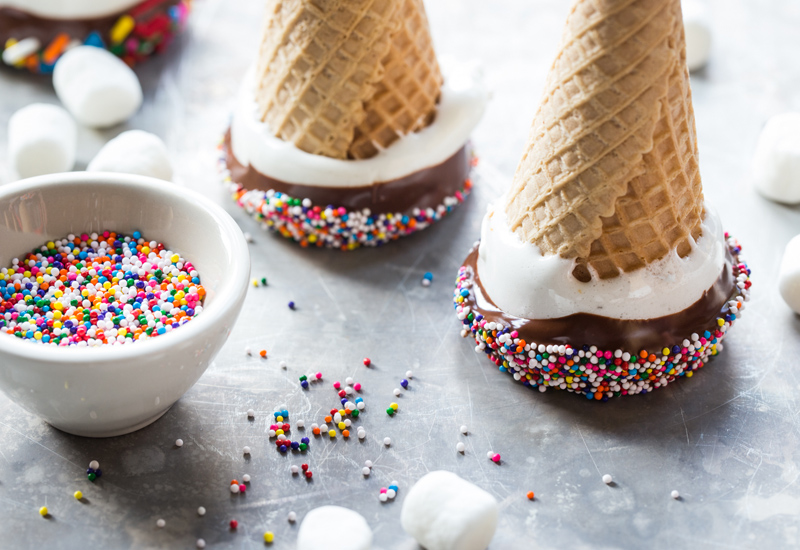 I could go on, but I won't. You get the idea.
Next time we make a batch of these cones, I'm thinking I might try a white chocolate drizzle or swapping toasted coconut for the sprinkles…
The possibilities are endless, my friends!
Now go grab yourself a cone and have an awesome weekend!
If you are looking for other fun summer ideas, try the Apple Smiles Snack or add more of those sprinkles to a pan of Classic Marshmallow Cereal Squares! Be sure to check out CampfireMarshmallows.com and follow us on Pinterest for more fun and festive recipes and crafts.
We love seeing photos of your recipes and how you "Make it with Marshmallows!" so be sure to share your photos with us on Facebook, Instagram and Twitter.
Blog post contributed by: JellyToast