S'mores Pies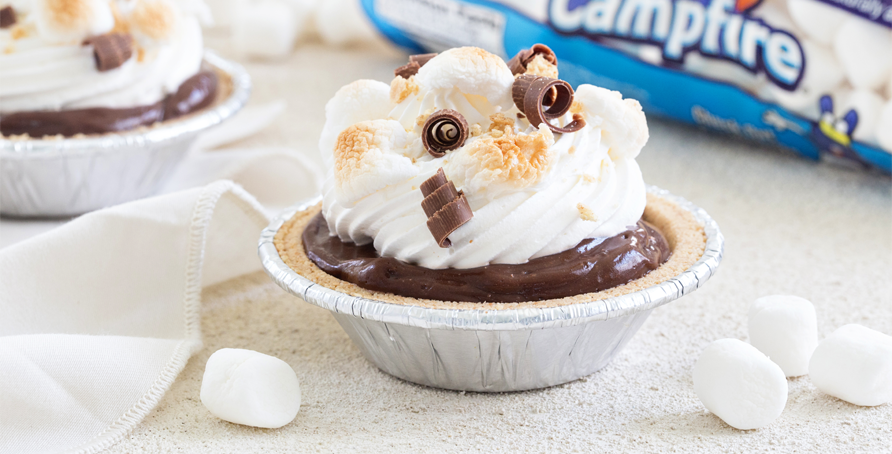 Mini S'mores Pies come together in less than 10 minutes and are the perfect no-bake dessert for summer. Who could possibly resist all this s'mores goodness?
Today is National S'mores Day which means you totally need to make something s'more-y for dessert tonight, right?
I typically don't get too excited about all of these food holidays. I mean, do we really need a day to celebrate bologna? It's October 24th, just in case you're interested.
But s'mores? You guys know that I am obsessed with that classic combination of chocolate, graham cracker, and marshmallows. And let me tell you, our new fire pit has only made my love for gooey, roasted marshmallows grow deeper.
My little babe has also developed a love of perfectly toasted marshmallows and this mama couldn't be happier because now s'mores are OUR thing.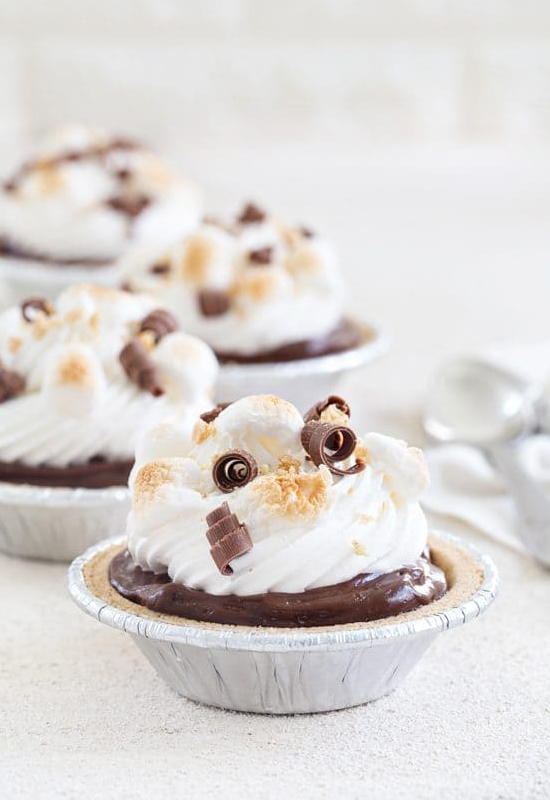 Campfire® has a marshmallow to fit pretty much any occasion, and we've been using the giant roasters at every opportunity this summer. They were the first marshmallow we broke our new fire pit in with, and they forever have a place in my heart because of it. The best family memories are always tied to food, amiright?
From Chocolate Chip Cookie S'mores and No Bake S'mores Cheesecake to Peanut Butter Cup S'mores Brownies, I'll pretty much s'more just about anything including mini chocolate pie.
We're celebrating Eric's birthday with family this weekend and since I made a homemade Oreo cake for him on his actual birthday, he requested chocolate pie for his party. Which of course got me thinking that I could totally s'more that for National S'mores Day.
And here we are.
I opted to take the easy route on these S'mores Pies and use pre-made mini graham cracker crusts and boxed chocolate pudding, but you could obviously be an overachiever and make everything from scratch. Go you.
Personally, I like a shortcut every now and then and sometimes semi-homemade desserts are my favorite desserts.
Like I said, these S'mores Pies start with mini graham cracker crusts, because who is not a fan of their own mini pie? Then we layer in rich, creamy chocolate pudding. And top that with a marshmallow fluff whipped topping. I could seriously eat this stuff with a spoon for breakfast. It is so good.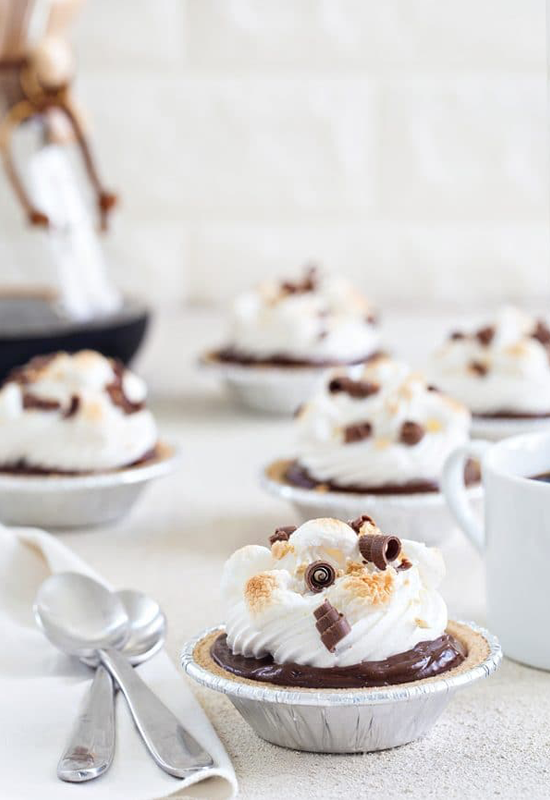 And since I can't leave well enough alone, we're topping all that deliciousness with chocolate curls, perfectly toasted mini Campfire® Marshmallows and more graham crackers.
I prefer using Campfire Marshmallows because their light sweetness is just right, especially with everything else that's going on here. You can leave them plain, or line these babies up on a toaster oven tray lined with parchment to achieve that iconic toasty color.
This is the stuff my s'mores dreams are made of.
For more s'more themed recipes, be sure to try the Peanut Butter Cup S'mores Brownies and the S'more Waffles! For more fun and festive recipes and crafts go to CampfireMarshmallows.com and follow us on Pinterest!
We love seeing photos of your recipes and how you "Make it with Marshmallows!" so be sure to share your photos with us on Facebook, Instagram and Twitter.
Blog post contributed by: My Baking Addiction