Roasted Berry S'mores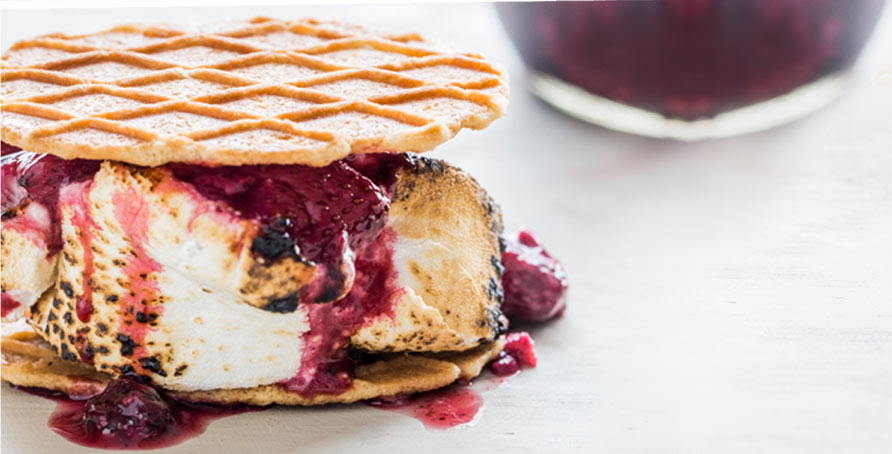 Roasted Berry S'mores are a fruity twist on a campfire classic! These sweet, roasted treats are made even more decadent with Campfire® Marshmallows Giant Roasters.
As soon as the weather warms up, camping becomes a serious topic of conversation in our house. We spend time looking at our summer calendar and planning out how many weekends we can devote to camping. Whether it's in our very own back yard or at a camp ground, the experience of being together, sleeping in a tent and cooking around the campfire is something that we all look forward to. It's pure family time, and frankly, a ton of fun.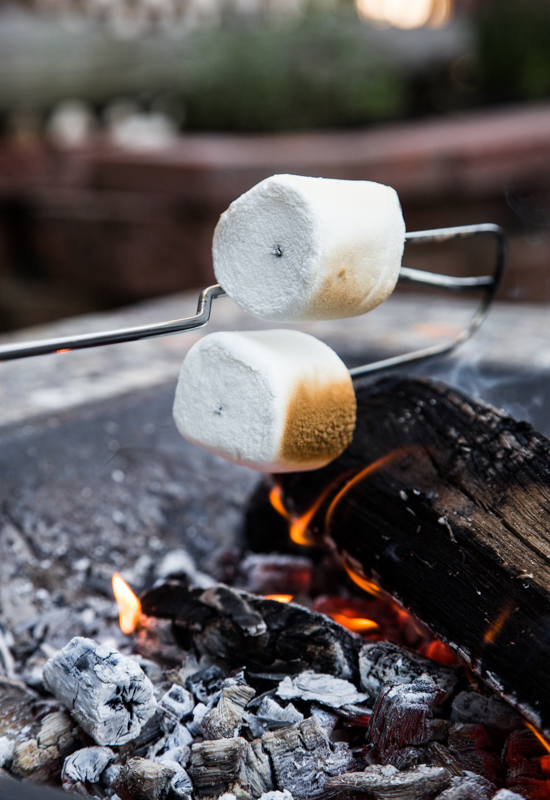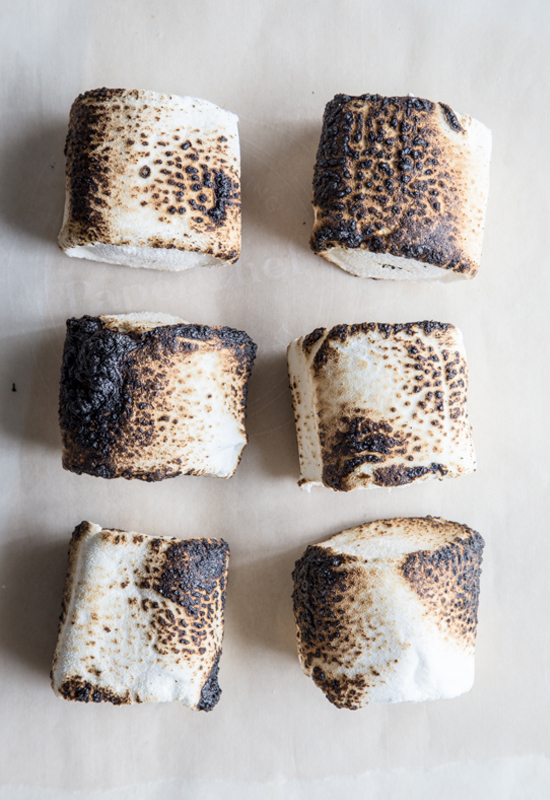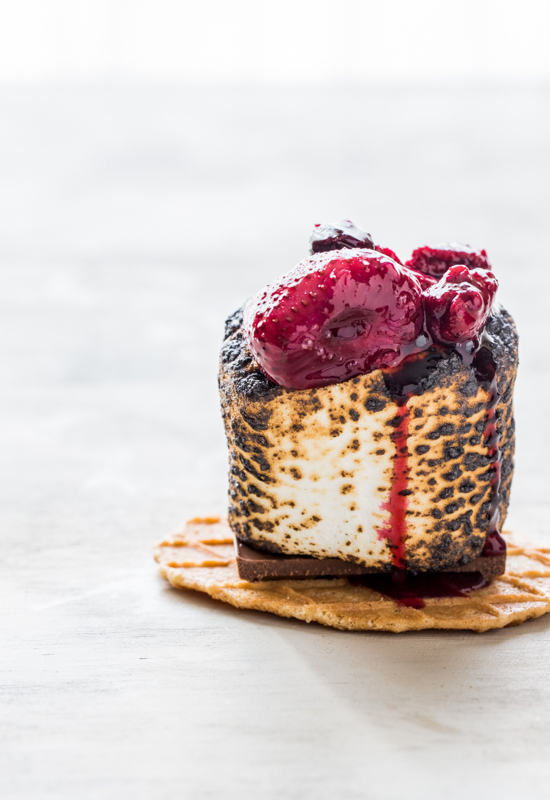 When we camp, flashlights and glow sticks are a must at night. I'm not sure what the kiddos would do if they didn't get to have their nighttime rave around the tent. Dinner over the campfire usually consists of hot dogs, baked beans and corn before moving on to the campfire popcorn. If you've never made campfire popcorn, you're missing out. It's smokey, salty and just plain delicious.
But not more delicious than s'mores.
Last fall, I shared the Buddy's camping themed 6th birthday party where we served up a huge spread of s'mores makings. A variety of chocolate bars and marshmallows to build your very own, personalized s'mores. That was quite possibly the most fun party that we've ever thrown. Simple food and s'mores.
Can it get any better than that?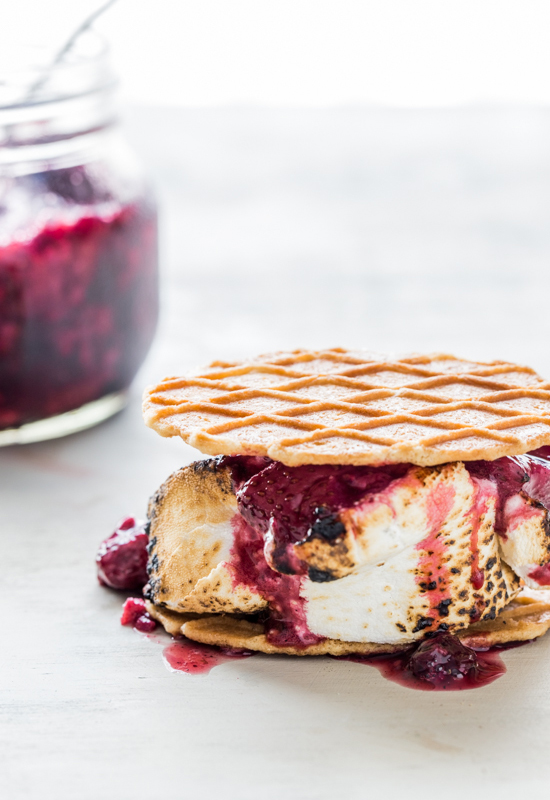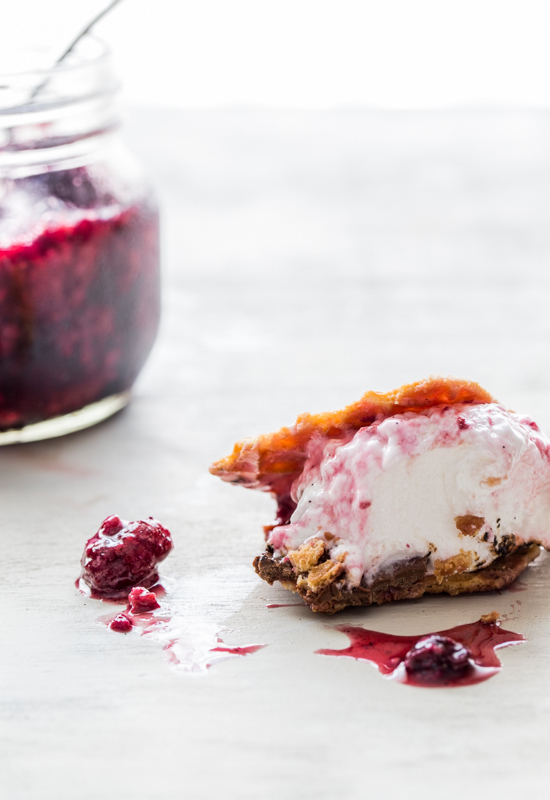 This past weekend, we uncovered our fire pit after our long brutal winter and made our very s'mores of the season. To make the occasion even more special, I whipped up a batch of sweet, roasted berries to drizzle over the toasted marshmallows. And not just any marshmallows – Campfire® Marshmallows Giant Roasters.
Have you seen these Giant Roasters? They're enormous – both in size and in flavor! Breaking these out during our camping trips and backyard adventures always brings the huge smiles (not to mention sticky cheeks) to the kiddos' faces.
These Roasted Berry S'mores were a hit with the whole family. Sweet, crunchy waffle cookies, a chunk of milk chocolate and a perfectly toasted Giant Roaster marshmallow. All of that drizzled with the slightly spiced berries made for some seriously epic s'mores. The addition of the juicy, roasted berry sauce with vanilla and cardamom is unexpected, but oh so amazing. It makes me want to roast all the fruits just for the purpose of spooning them over warm and melty Giant Roasters.
Is that wrong?
I'm just so excited to have s'mores season officially underway!
If you are looking for other new s'more ideas, be sure to check out these S'mores Pudgy Pies or these Turtle S'mores! For more fun and festive recipes and crafts go to CampfireMarshmallows.com and follow us on Pinterest!
We love seeing photos of your recipes and how you "Make it with Marshmallows!" so be sure to share your photos with us on Facebook, Instagram and Twitter.
Blog post by: Jelly Toast