Mini S'mores Cheesecakes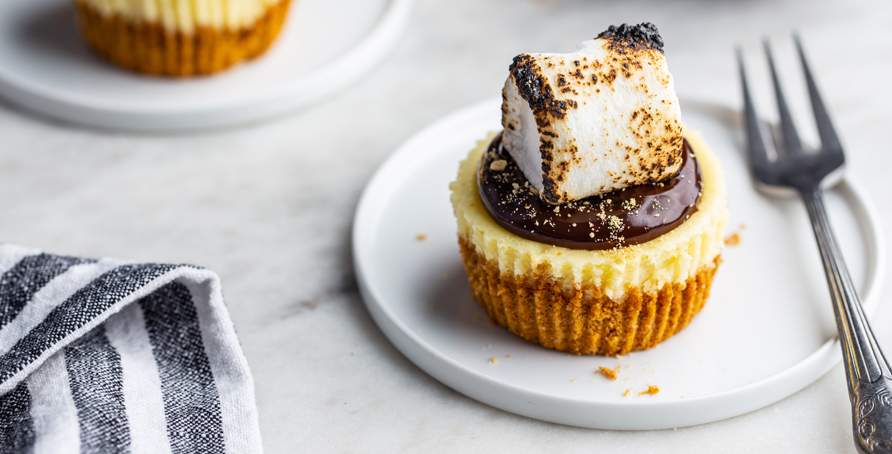 Decadent mini s'mores cheesecakes have all the rich, creamy filling of traditional cheesecake in an individual serving size. A classic graham cracker crust and vanilla cream cheese filling are topped with melty hot fudge and a toasted marshmallow for classic campfire treat.
I am pretty sure of all the months, August has the biggest identity crisis. Is it summer? Is it Fall? Who can even tell.
My kids started school last week but the heat and humidity is at epic levels here in Ohio. I am not one to complain about the start of school and summer being over. Honestly, my kids love school and I'm so thankful for that, but it does make this entire month just one big confusing mess.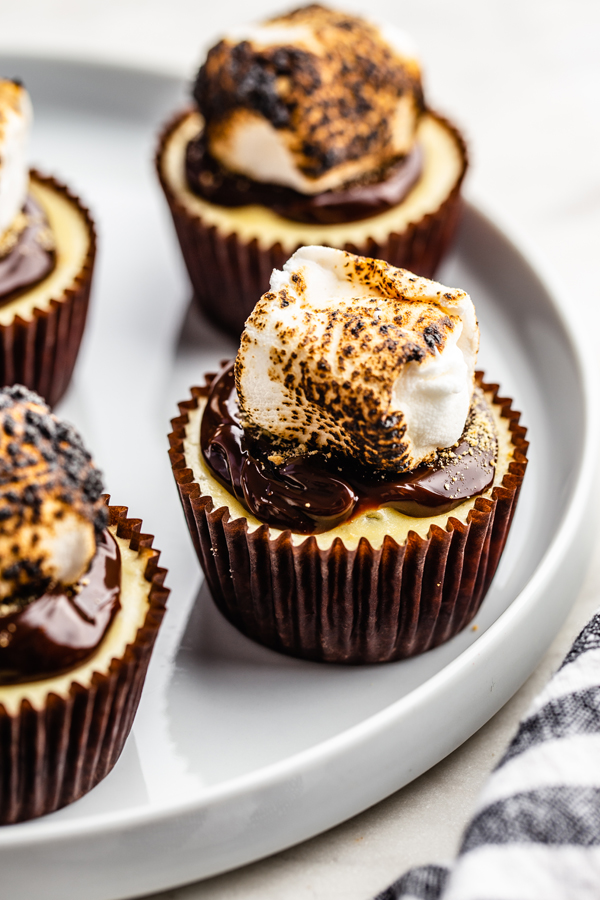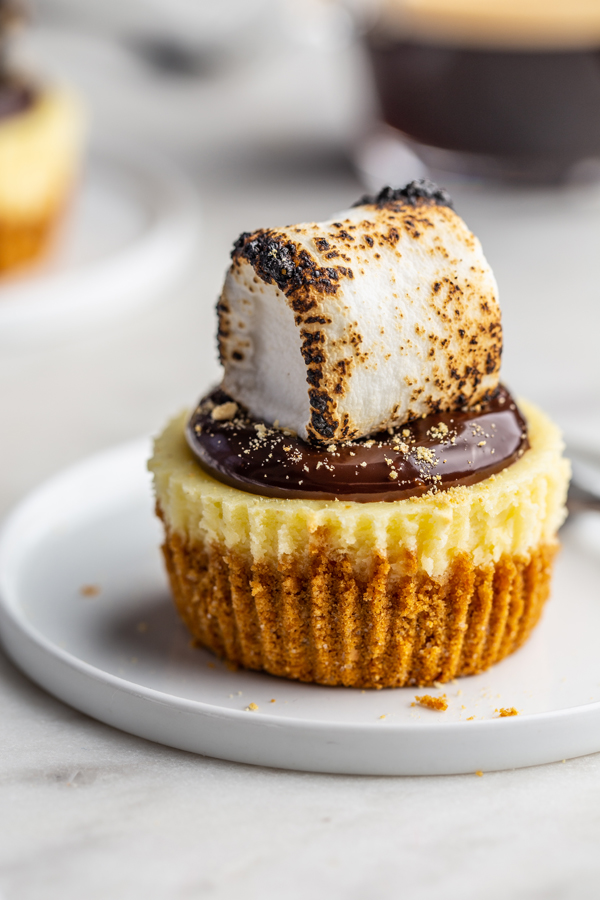 Weekends are still filled with summer activities like biking, camping, and evenings spent outside around the fire pit. But the weeks are now focused around spelling tests and packing lunches.
The fact that August is National S'mores Month is pretty fitting. It's a little reminder that summer fun doesn't have to be over, even though we're getting back into the rhythm of school.
One of our favorite things to do over the summer and into the fall is get together with our friends for night time drinks and dessert. For us, the dessert always means s'mores.
ENJOYING S'MORES IN CHEESECAKE FORM
My typical s'mores style is to just pull out some graham crackers and chocolate and let the kids roast their own marshmallows over the fire. Simple & delicious.
If I'm feeling really adventurous, I'll pull out the fixings for Toasted Hazelnut S'mores or Chocolate Chip Cookie S'mores instead.
Last week, I was feeling slightly more ambitious and decided to make a batch of mini cheesecakes. Classic graham cracker crust topped with creamy vanilla cheesecake filling.
So, when our friends came over, instead of pulling out the graham crackers and chocolate bars, I pulled out the baked mini cheesecakes, a jar of hot fudge, and a bag of Campfire® Marshmallows.
Everyone was able to top their own mini cheesecake with some hot fudge and a marshmallow toasted to their own liking – very crispy for me, please!
These mini s'mores cheesecakes were such a fun way to enjoy s'mores outside around the fire. They satisfied all of the chocolate marshmallow cravings you have when wanting some s'mores, but with the addition of the creamy cheesecake that made the whole thing feel just a bit more special.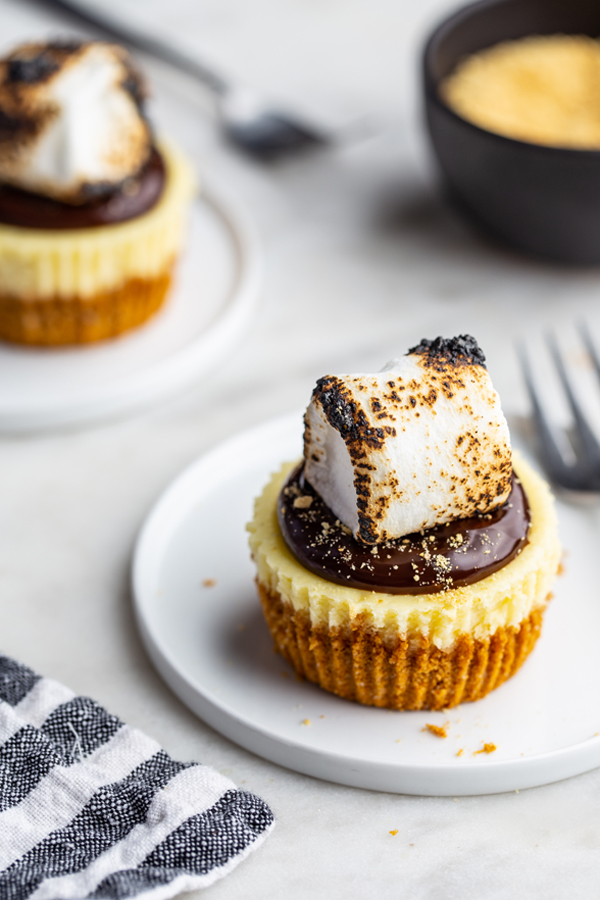 MAKING MINI S'MORES CHEESECAKES
Baking the mini cheesecakes for the base is very simple. The recipe is classic vanilla cheesecake and can be made up to a few days ahead of time with just a few more ingredients to bring home the s'mores element.
Here is what you'll need for Mini S'mores Cheesecakes:
So while the days are still feeling summery but the nights are getting shorter and a bit cooler, be sure to plan a simple night with friends around the campfire. A few drinks and a batch of these mini s'mores cheesecakes are all you need to transition from summer to fall.
If you are looking for other new s'more ideas, be sure to check out these S'mores Pudgy Pies or these Turtle S'mores! For more fun and festive recipes and crafts go to CampfireMarshmallows.com and follow us on Pinterest!
We love seeing photos of your recipes and how you "Make it with Marshmallows!" so be sure to share your photos with us on Facebook, Instagram and Twitter.
Recipe by: Jelly Toast