Marshmallow Treat Cupcakes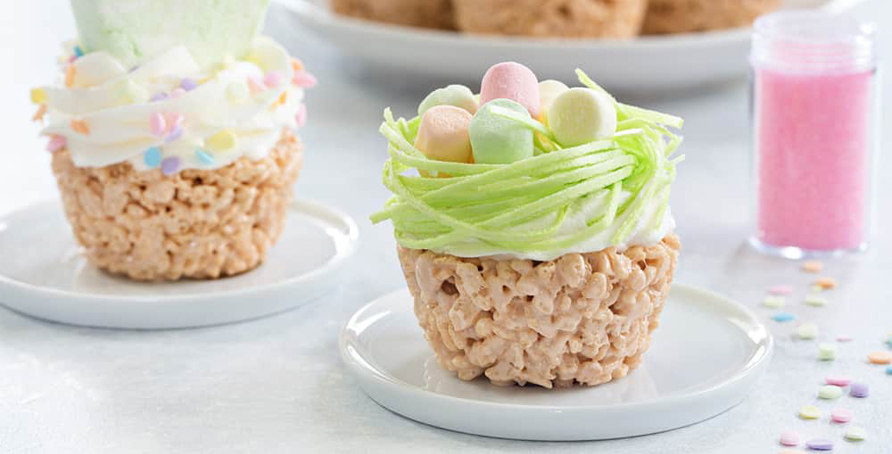 Marshmallow Treat Cupcakes are an adorable and delicious addition to any spring party! Festive sprinkles and colorful marshmallows make them extra special.
If you're at all like me, you're scrambling to come up with last minute ideas for Easter.
Per usual, I started off strong, picking up things for Elle's basket weeks ago. Then life happened and now I'm left with a bagful of chocolate, a floppy sun hat and a bathing suit that says, SHELLO.
Guys, I can't even find her super cute Easter basket that I bought from Pottery Barn complete with her name embroidered on it.
I'm convinced Eric accidentally threw it away when he was organizing the storage area in the basement, although he denies it.
Basically, I'm going to need to go on a pretty serious Target run today after our Egg Dyeing Party.
Elle is in a phase where she wants to plan parties on a daily basis.
These parties are full of colorful paper plates, confetti, noise makers, (my personal fave) faux jewels, loads of stickers and super slobbery balloons.
Our cat, Gracie, has had no less than 17 birthday parties in the last month. And Elle is loving every minute of it.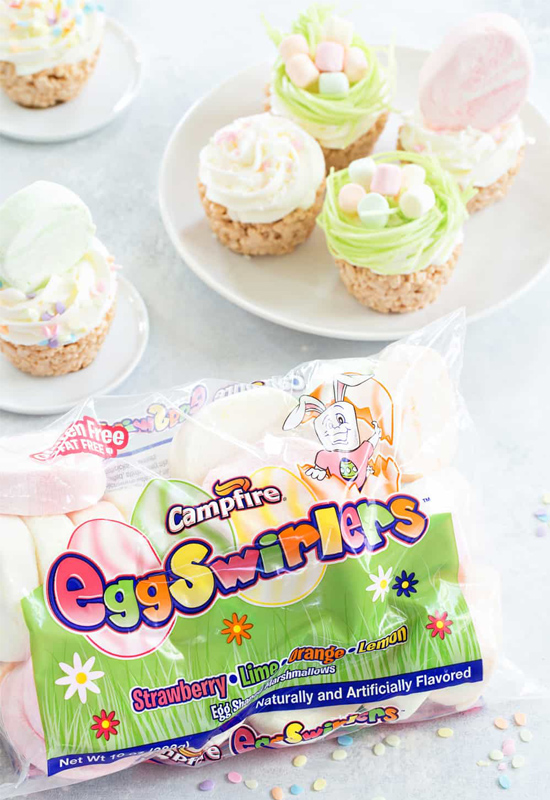 Our egg dyeing party is happening today and while Elle is in the midst of making decorations out of empty toilet paper rolls, I'm whipping together my easy crock pot pulled pork sandwiches, baked beans, jo-jo wedge potatoes and these marshmallow treat cupcakes.
These may look a little familiar because I made a gingerbread version of them back in December and they were so darn cute, and not to mention well received, I had to whip them up for Easter too.
I mean, who could possibly resist a marshmallow treat cupcake, piled high with vanilla buttercream, edible grass, and adorable fruity marshmallows?
My whole family is obsessed with Campfire® Egg Swirlers and every single year my dad calls dibs on the extras. They're ultra-soft, sweet, full of fruity flavors, and shaped like adorable Easter eggs.
I love the orange, but Elle is totally guilty of snagging all of the strawberry ones from the bag.
These marshmallow treat cupcakes are super easy and totally adaptable. If you can't find the Campfire® Egg Swirlers, you can easily substitute them with Campfire® Mini Fruit Marshmallows as mini eggs within the edible candy nests! So cute!
For more Easter celebration ideas, be sure to try these No Bake Marshmallow Cheesecakes and these Monogram Marshmallow Easter Eggs! For more fun and festive recipes and crafts go to CampfireMarshmallows.com and follow us on Pinterest!
We love seeing photos of your recipes and how you "Make it with Marshmallows!" so be sure to share your photos with us on Facebook, Instagram and Twitter.
Blog post contributed by: My Baking Addiction