Brown Butter Rice Krispie Treats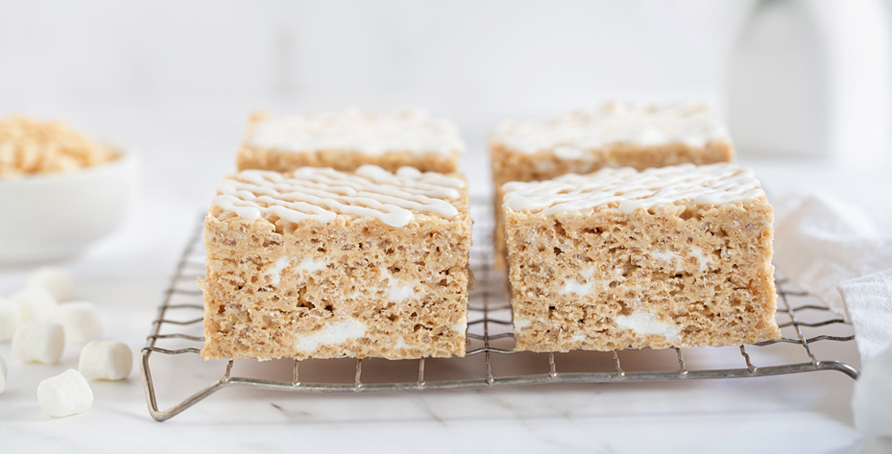 Brown Butter Rice Krispie Treats take your favorite marshmallow treats to the next level with brown butter and maple for a fall-themed treat that is as easy as can be.
I don't know about you, but I love seeing nostalgic childhood treats recreated at bakeries these days.
Of course, I love treating myself to a fancy macaron or chocolate croissant because, let's be honest, I might be a baker but those are high-maintenance recipes that aren't coming out of my kitchen on the regular.
But lately I've been seeing delicious goodies inspired by childhood favorites at bakeries. Things like oatmeal cream pies or cereal milk ice cream that remind you of your favorite childhood sweets, but taken to a whole new level.
Recently, I spotted brown butter rice krispie treats at a local bakery. They were super thick and gooey and just eyeing them in the bakery case had me craving marshmallow treats for days afterwards. They were everything I loved about marshmallow treats as a kid but made even better. Hello, brown butter.
When I'm unable to shake an idea like that, I know I have to harness it as recipe inspiration. I simply had to recreate them at home.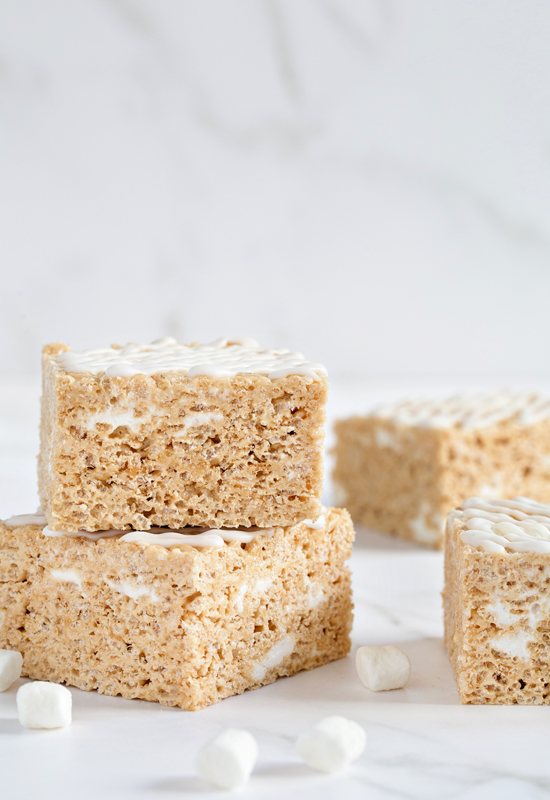 BROWN BUTTER RICE KRISPIE TREATS
Just like the ones I saw at the bakery, these Brown Butter Rice Krispie Treats are like the marshmallow treats we all grew up with, taken to a whole new, more sophisticated level.
When I was recreating these, I decided that I wanted to go beyond brown butter and add a maple twist as well thanks to Campfire® Maple Roasters.
Yes, that's right. Why stop with brown butter when you can combine brown butter with maple?
By using a combination of Campfire® Maple Roasters and Mini White Marshmallows, I was able to add a subtle maple flavor that pairs perfectly with the brown butter in these Brown Butter Rice Krispie Treats.
But don't worry, if you can't find Campfire® Maple Roasters, you can use sub in more Campfire®Mini White Marshmallows and simply add in a bit of maple extract.
In case you're new here, I've been working with Campfire® Marshmallows for the past few years to meet all of my marshmallow recipe cravings, just like with these Brown Butter Rice Krispie Treats.
We've created tons of delicious dishes and desserts in the past few years and have even more coming your way as we head into the holiday season.
We even created a Marshmallow Madness Pinterest board where we've pinned loads of delicious ooey-gooey marshmallow recipes, just like Brown Butter Rice Krispie Treats. And Movie Theater Popcorn Bars. And Cookie Dough Cheesecake S'mores.
To make these Brown Butter Rice Krispie Treats even more decadent, I stirred in some extra Campfire® Mini White Marshmallows right at the end to get pockets of fluffy marshmallow. I also put them in a 9×9-inch pan so they're twice as thick – just like you'd get them at a bakery.
You could totally make these in a 9×13-inch pan instead if you prefer thinner marshmallow treats.
Finally, Brown Butter Rice Krispie Treats are topped with a super simple glaze. The glaze adds a sophisticated touch that totally makes these treats bakery-worthy.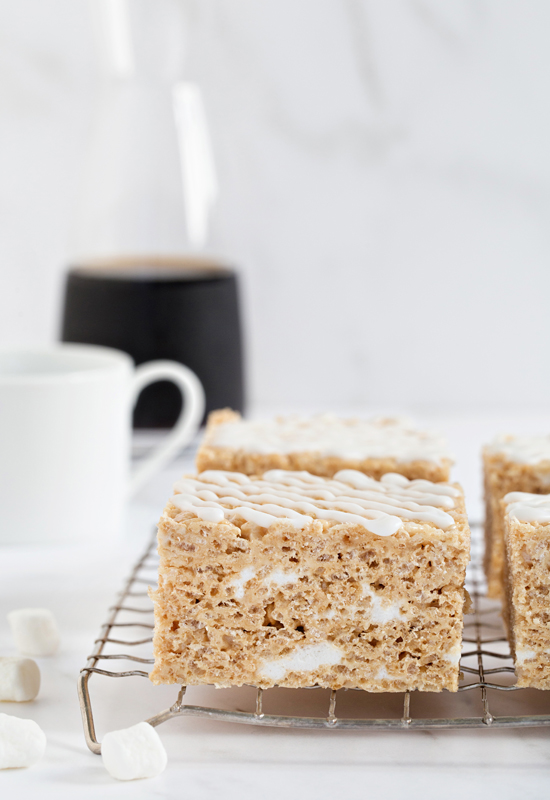 WHAT IS BROWN BUTTER?
Brown butter is what you get when you brown the milk solids in butter. The solids fall to the bottom of the pan and the butter gives off a delightfully nutty aroma and flavor.
Browning butter is a simple trick that adds amazing flavor to your butter and takes it from a simple ingredient to a sauce all on its own. Brown butter also adds a great flavor to all sorts of recipes that already use butter, such as hollandaise, chocolate chip cookies, or frosting.
I love brown butter in my Brown Butter Maple Nutmeg Cookies, Cashew Cookies with Brown Butter Frosting, and Brown Butter Blondies.
In Brown Butter Rice Krispie Treats, the brown butter adds a warm nuttiness which pairs perfectly with the sweet Campfire® Maple Roasters. It's a flavor combination that makes me think of fall every time.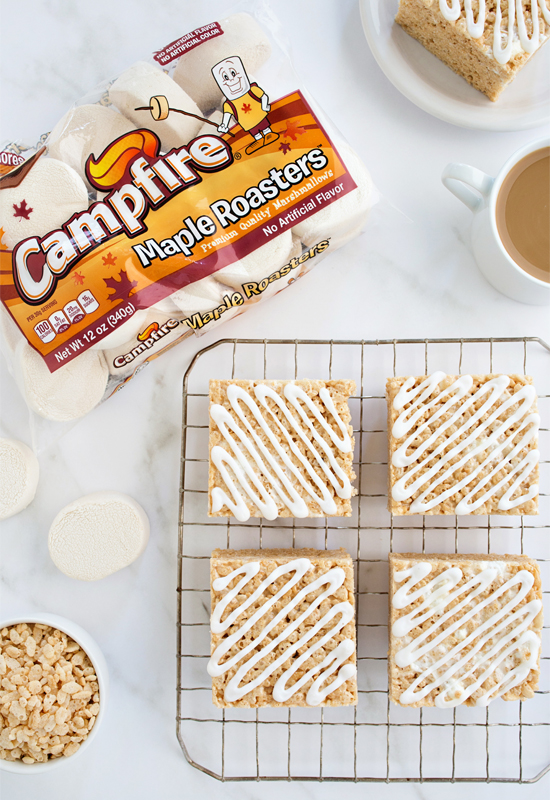 HOW TO BROWN BUTTER
Wondering how to make brown butter? It sounds extremely fancy, but is actually really easy – remember, it's just ONE ingredient!
To brown butter, simply melt butter over medium-low heat. As the butter cooks, it'll start to get foamy.
Continue cooking over medium-low heat, stirring the butter occasionally, until the foam subsides and the butter takes on a golden-brown color, has a nutty aroma, and the milk solids have darkened and fallen to the bottom of the pan.
At this point, grab a bowl and pour the brown butter into it to stop the cooking – brown butter is delicious, but burned butter is not!
I recommend using a light-colored pan when you brown butter – this is not the time for dark, nonstick cookware. Use a stainless or enameled pot so you can easily watch as the butter starts to darken.
I can promise that browning butter will be your new favorite trick! Try it in these Brown Butter Rice Krispie Treats. Once you do, you'll be adding it to all your favorite recipes.
Looking for more brown butter or maple recipes for fall? Try my Frosted Maple Pecan Marshmallow Cereal Treats, Maple Caramel Corn, Maple Walnut Blondies from Stephie Cooks, or Brown Butter Vanilla Bean Apple Crisp from Nutmeg Nanny.
For more fun and festive recipes and crafts go to CampfireMarshmallows.com and follow us on Pinterest!
We love seeing photos of your recipes and how you "Make it with Marshmallows!" so be sure to share your photos with us on Facebook, Instagram and Twitter.
Blog post by: My Baking Addiction