Ambrosia Trifles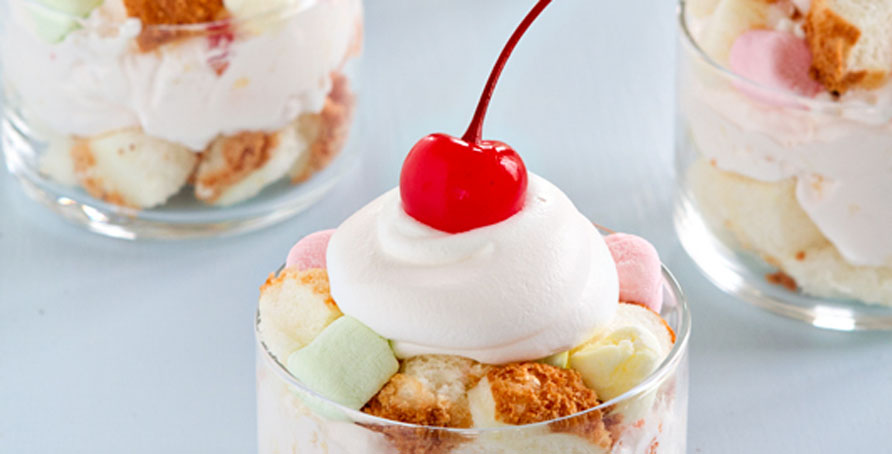 Layers of angel food cake and ambrosia salad are topped with fruity, miniature Campfire® Marshmallows. These ambrosia trifles are sure to be the star of your Easter dessert table.
Let's talk a bit about moving into a newly built home. Turns out, things happen as your house settles a bit, like nail pops (which are really screws), little cracks and then there's all paint splatters, drywall dings, nicks, etc. that are more just a result of crews that aren't super attentive to detail. And let's just say that's pretty much my worst nightmare. I honestly think our project manager finds me to be just a tad crazy – let's just say our house was covered with post-it flags at our 30-day walk through.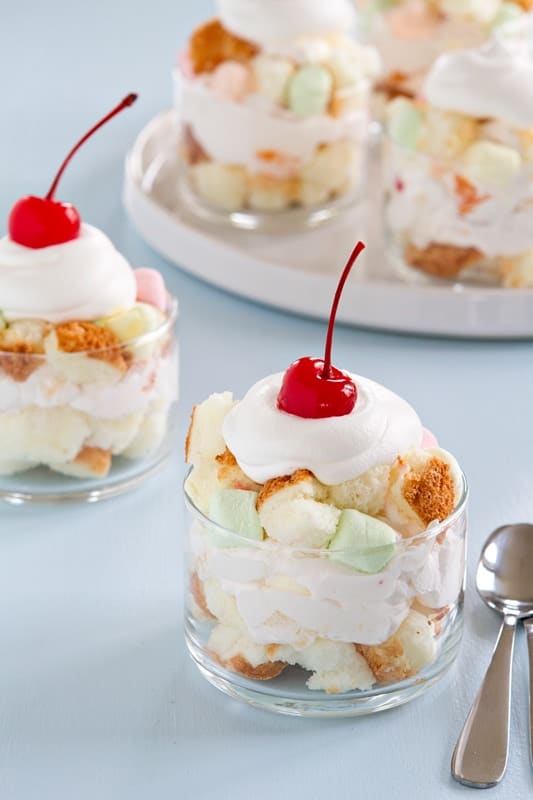 Basically we've been living in a completely undecorated house, so touch up crews can come in and work their magic. I'm seriously itching to get things on walls and turn this house into a decorated home.
Naturally a new home translates to hosting Easter this year. So we're hoping that all the major work is completed by Friday so we can spiffy up the place before the Easter bunny hops into town. And since the whole house is pretty much covered in plastic and drop cloths, we're keeping things super simple for Easter dinner. That's why I absolutely love these Ambrosia Trifles – they're easy, delicious and the fun pastel Campfire® marshmallows make them totally festive. And trust me when I say, you can most definitely get away with store-bought angel food cake here, friends. Just sayin'.
I'm a total sucker for ambrosia salad because it reminds me my childhood and layering it with fluffy angel food cake makes it even better – especially when the combination is served up in tiny individual glass bowls. Topping them off with a little whipped topped topping, fruity, miniature Campfire® marshmallows and cherry make them irresistible.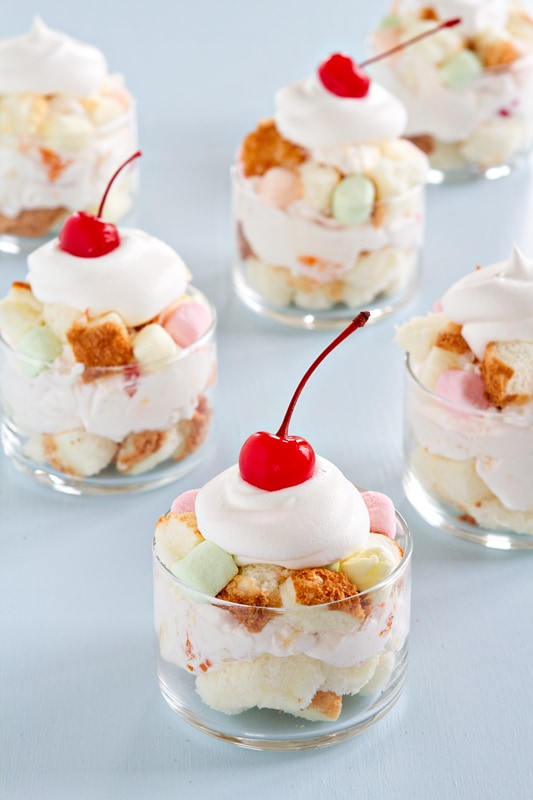 For more delicious marshmallow dessert ideas, be sure to try this Strawberry Cheesecake Fluff, this Marshmallow Ice Cream Pie, and these No Bake Marshmallow Cheesecakes! For more fun and festive recipes and crafts go to CampfireMarshmallows.com and follow us on Pinterest!
We love seeing photos of your recipes and how you "Make it with Marshmallows!" so be sure to share your photos with us on Facebook, Instagram and Twitter.
Blog post by: My Baking Addiction