Patriotic Berry Marshmallow Kabobs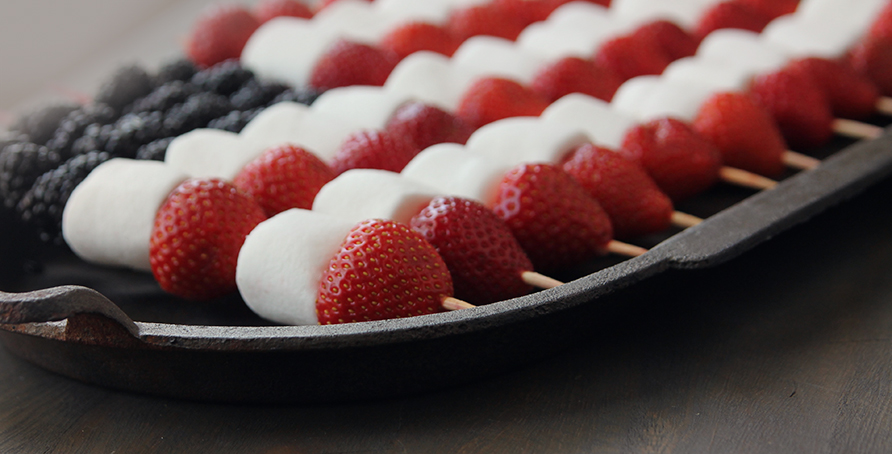 Patriotic Berry Marshmallow Kabobs are always popular at our 4th of July celebration, and this summer is no different! In our family, the 4th of July is a big deal and we go all out! From burgers and hotdogs to fresh corn on the cob and numerous salads, it's a day full of fireworks, fun and eating! One of my favorite things about the 4th of July (and any other holiday – let's be honest!) is creating festive desserts and treats! These Patriotic Star cereal treats are always a hit – and let's not forget Roasted Berry S'mores! Delish!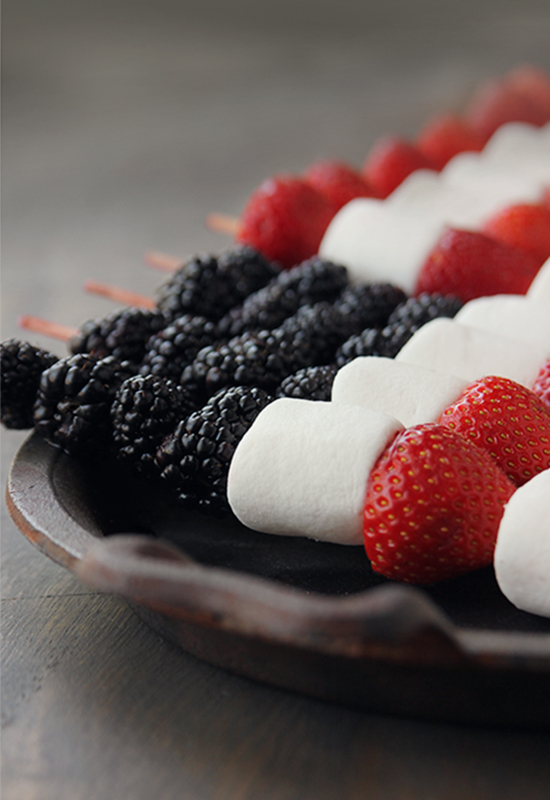 Whether it's blueberries or raspberries, mini white marshmallows or Red, White and Blue Star Marshmallows, I try to create different patriotic kabobs every year – and let me tell you, I'm running out of blue fruit ideas!
Over Memorial Day I decided to make a festive red, white and blue fruit salad and stumbled upon the most gorgeous blackberries at our local market. In preparation for the upcoming holiday weekend, I headed back to the market early to make sure to have the blackberries and strawberries I needed on hand. I love deep deep blue of these berries and they're a great alternative to blueberries.  (I also spotted black grapes for the first time – so those may be next!)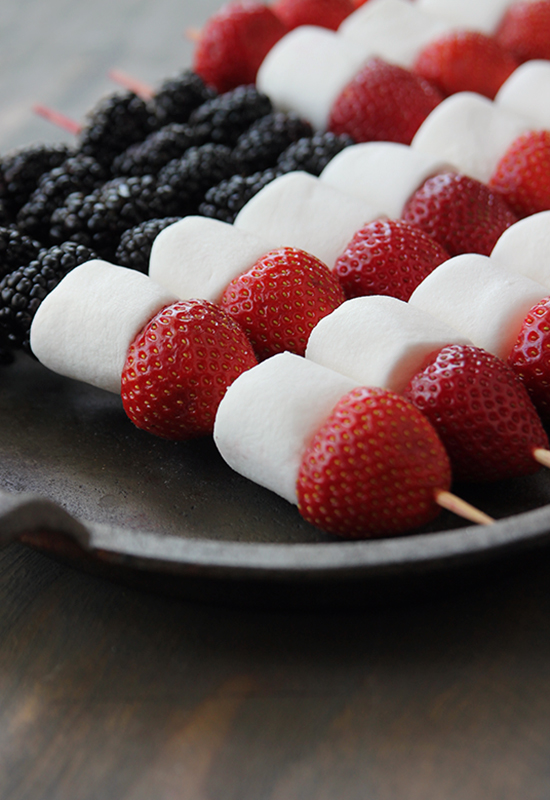 Once the ingredients are collected and the fruit is prepped, Patriotic Berry Kabobs are a fairly simple treat to assemble. The trick is in the handling. Over the years I have learned the hard way how quickly those delicious fruit juices can quickly discolor my marshmallows. So now I have a go-to system, I use my right hand for adding fruit to a skewer, and add marshmallows with my left. This will assure your marshmallows stay clean from smudges!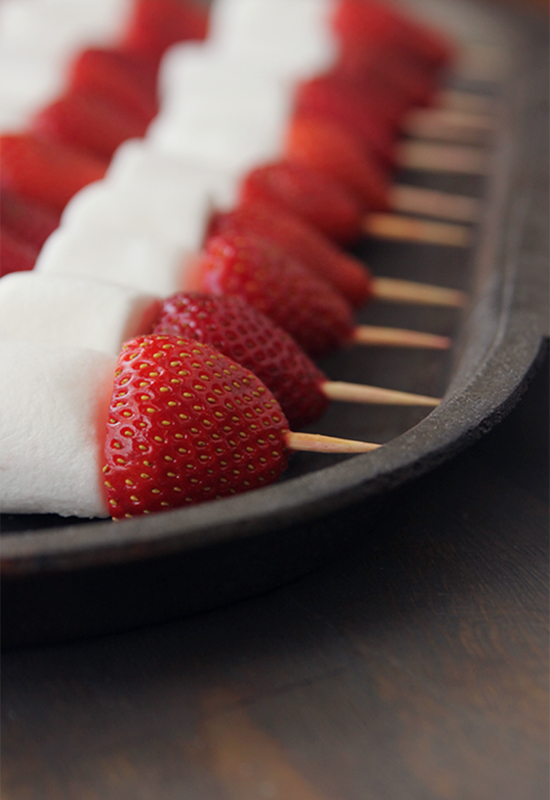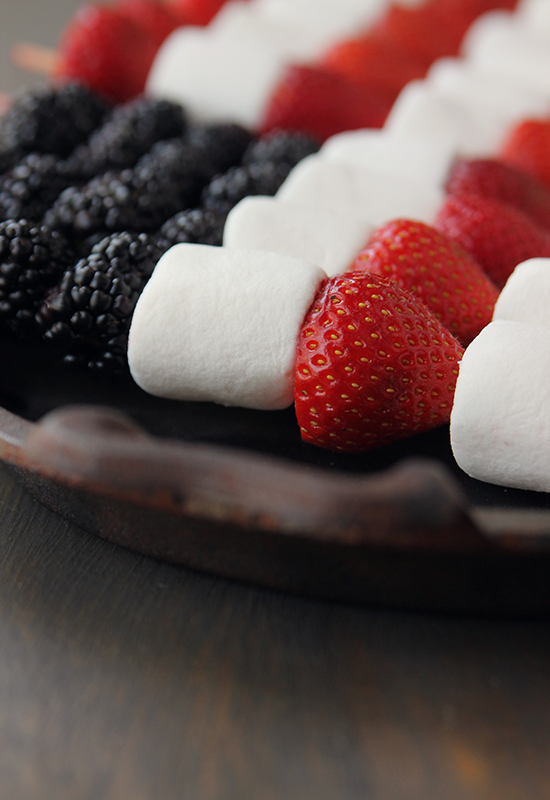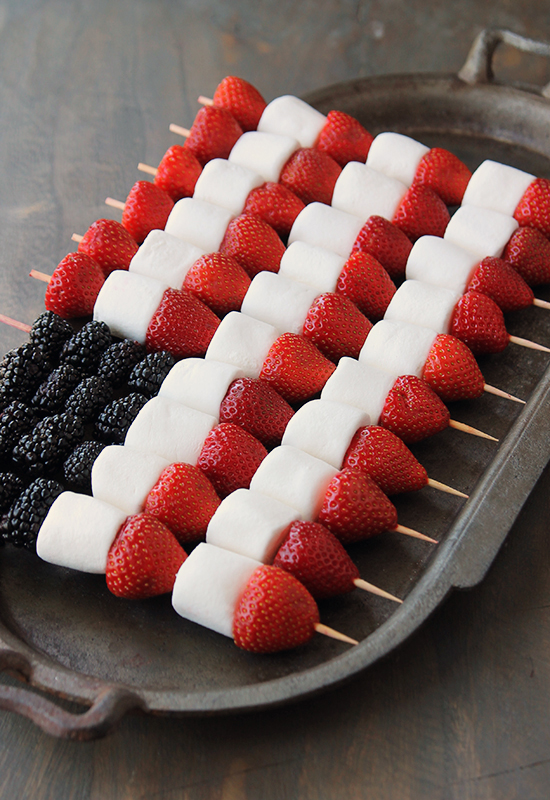 After you've assembled your kabobs, it's so exciting to lay them sided by side and see your Berry Marshmallow Flag come to life! These kabobs are sure to impress your guests and can be made ahead of time, just store them in the fridge! Easy, refreshing and festive!
Have a safe & happy 4th of July!
Be sure to check out CampfireMarshmallows.com and follow us on Pinterest for more fun and festive recipes and crafts!
We love seeing photos of your recipes and how you "Make it with Marshmallows!" so be sure to share your photos with us on Facebook, Instagram and Twitter.