Krispie Treat S'mores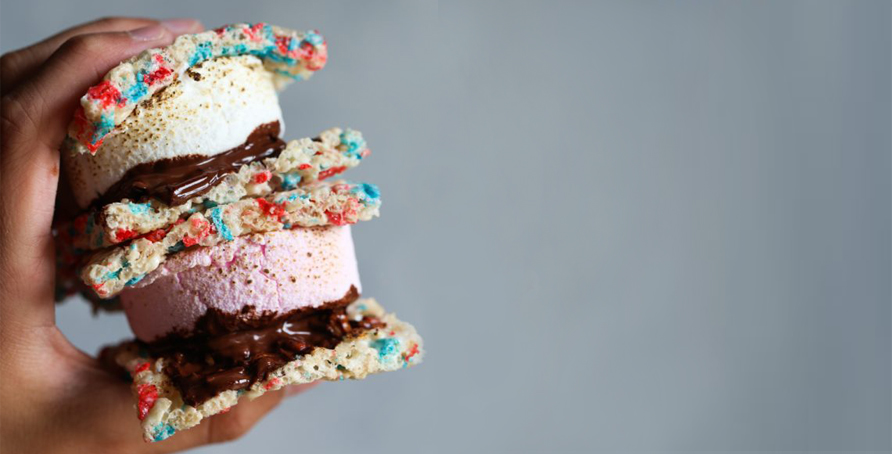 Krispie Treat S'mores are a fun way to take your s'mores to the next level! Instead of graham crackers, use thin krispie treats for EXTRA marshmallow gooey-ness!
Oh friends..today is FINALLY my kids last day of school!! While the school year has gone by in a (literal) blink, the last day felt like it would never come. I guess, I see so many people who have been out of school for almost a month now, but here in NJ our school year starts a little later, but also ends a little later too. Add to that snow days, etc and we're almost in July when it finally ends.
But alas, it is upon us, and I am READY. As my kids have gotten a little older I have come to disliking school more as an adult than I ever did as a kid. It feels like there is so much SO MUCH that is required of our kids than ever before….from testing, to sports, to clubs, and a million other commitments. MAYBE it was the same when I was young, and I was just oblivious.
But in honor of summer, I am doing my first (I think?) S'mores recipe of the season, Krispie Treat S'mores! This is less a recipe, more of an assembly idea…but still pretty genius, if I do say so myself. I have no idea why it took me a million year to think of it. And if someone else already has, well…I'm extra late to the party.
Here it is: use KRISPIE TREATS instead of graham crackers for your s'more.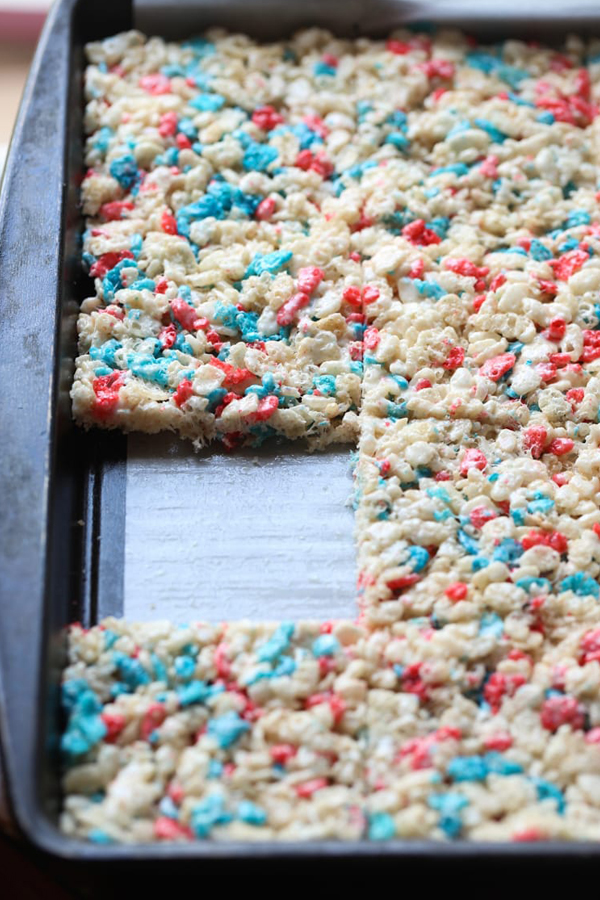 Has your brain exploded yet? How about now? NOW?
I mean USE KRISPIE TREATS INSTEAD OF GRAHAM CRACKERS! How have I never DONE THIS? I feel like I am basically the main source of krispie treat ideas on the web, and this has escaped me. I let you down, and I am so sorry.
It took a giant Campfire® Red, White, & Blue Roaster to spark creativity. You never know where an idea is going to come from!
I was sent a big box of Campfire® Marshmallows and with July 4th coming up soon, I knew I had to use these adorable, festive marshmallows! Campfire® Marshmallows are pretty much at the top of their game, continually coming up with new, and exciting products. I am ALL about marshmallow innovation.
So, with that said, this "recipe" is REALLY easy, and a total showstopper. All you have to do is make a large pan of krispie treats. You want the treats to be on the thin side, so your s'more isn't too thick!
I found red, white, and blue cereal at the store as well…so cute! Allow the krispie treats to cool completely in the pan. You might even want to let them sit out uncovered a little longer than you normally would so they can firm up a little.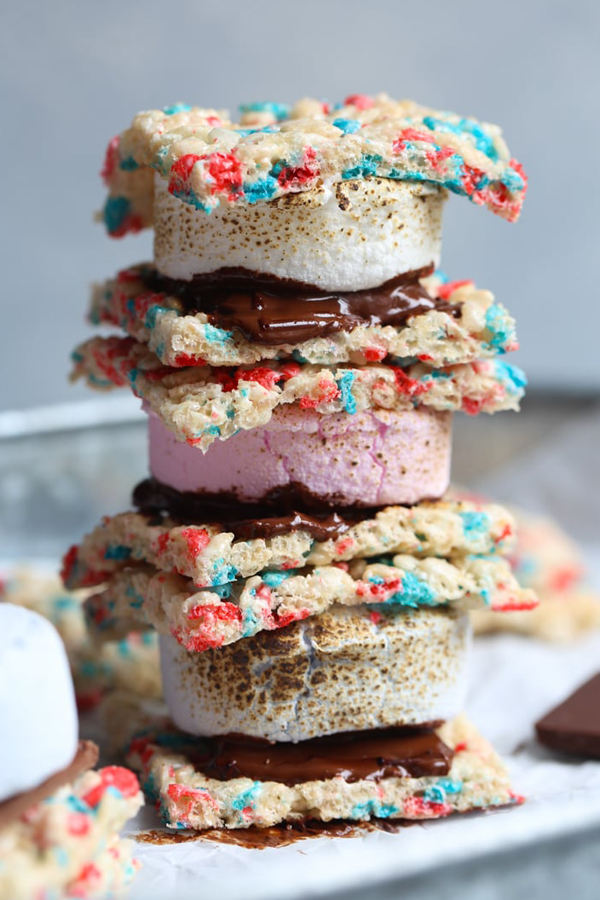 When you're ready, roast your marshmallows and assemble your totally delicious, over the top, ooey-gooey s'mores!
Use milk chocolate, semi-sweet, or I bet white chocolate would be delicious paired with the Campfire® Red, White & Blue Roasters since they're cherry, vanilla, and blueberry flavored!
If you are looking for other new 4th of July ideas, be sure to check out these Chocolate Chip Cookie S'mores or these Funfetti Cookie S'mores! For more fun and festive recipes and crafts go to CampfireMarshmallows.com and follow us on Pinterest!
We love seeing photos of your recipes and how you "Make it with Marshmallows!" so be sure to share your photos with us on Facebook, Instagram and Twitter.
Blog post by: Cookies & Cups