Halloween Marshmallow Popcorn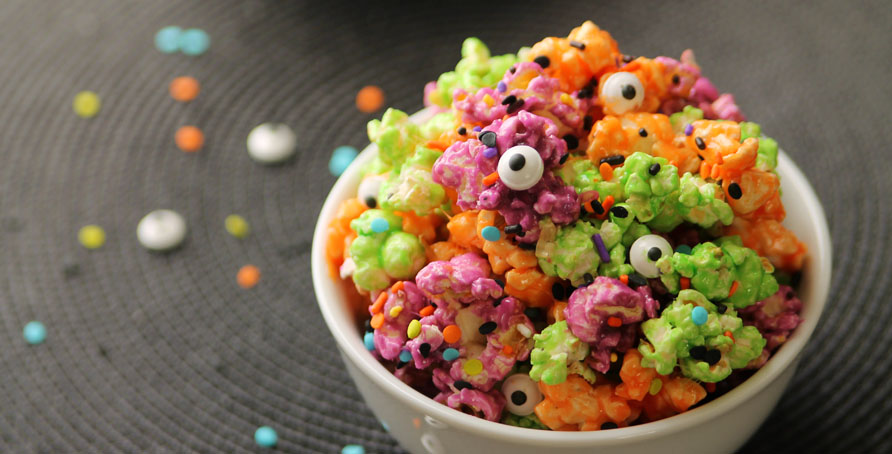 While faced with a surprise group of hungry house guests last week, I knew I had to serve them something fun and festive…and FAST! After scrambling through my cabinets I decided on popcorn. Who doesn't like popcorn right? And I had plenty of it…
I grabbed a bag of Campfire® Mini Marshmallows, food coloring and started popping popcorn. While my melty marshmallow goodness was on the stove, I couldn't decide on what color to make this sweet and salty treat. Why do I have to use one color? … so I chose three. I used traditional food coloring but also incorporated a few drops of neon to really make the color pop.
Once the melted marshmallows and popcorn were ready to go, I mixed them in separate large mixing bowls and let cool on a cookie sheet while I hunted down my Halloween sprinkles. What's more festive and fun that Halloween bones and googly eyes staring back at you from your snack?! I quickly tossed some sprinkles onto the cooling popcorn, pulled it apart and placed into into smaller portioned bowls. To say it was a big hit would be an understatement.
Halloween means all things fun and spooky, and this popcorn is no exception! This Marshmallow popcorn can be whipped up quickly and can be altered for any occasion. It's also relatively easy and a great way to get the kids into the kitchen to help!
Be sure to check out CampfireMarshmallows.com and follow us on Pinterest for more fun and festive recipes and crafts!
We love seeing photos of your recipes and how you "Make it with Marshmallows!" so be sure to share your photos with us on Facebook, Instagram and Twitter.