Salted Caramel S'mores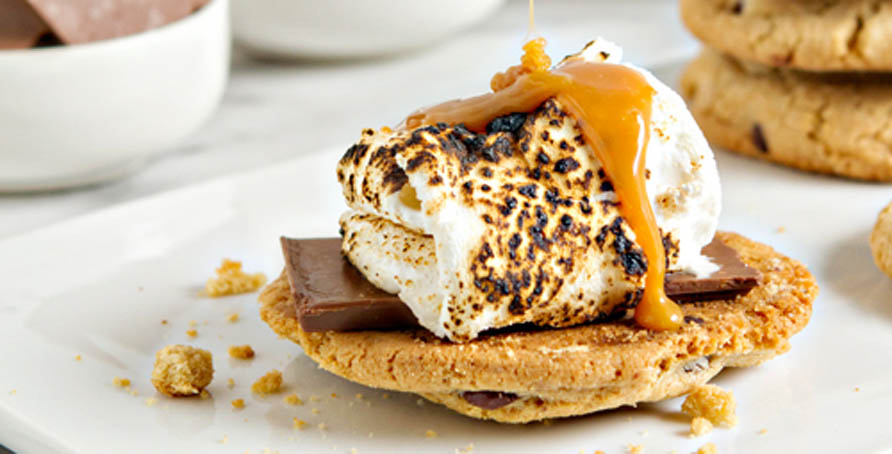 Salted Caramel S'mores – a deliciously decadent take on an old campfire favorite made with Campfire® Giant Roasters Marshmallows.
By now you guys are well aware of my love affair with all things salted caramel. From Salted Caramel Brownies to Salted Caramel Chocolate Chip Cookies – this flavor combination pretty much makes my world go round. And since I can simply never leave well enough alone, I had to up the ante a bit – okay – a lot.
Yesterday I posted Salted Caramel Chocolate Chip Cookies, and I'll admit they're fantastic on their own. But I've taken those babies to a completely different level of salted caramel awesomeness by creating the best s'mores I've ever eaten in my entire life!
Ooey-gooy Campfire® Giant Roasters Marshmallows are sandwiched between two giant Salted Caramel Chocolate Chip Cookies, two squares of salted caramel chocolate, and of course a drizzle of salted caramel sauce – because it's completely necessary in a this-is-the-most-over-the-top-dessert-EVER kind of way.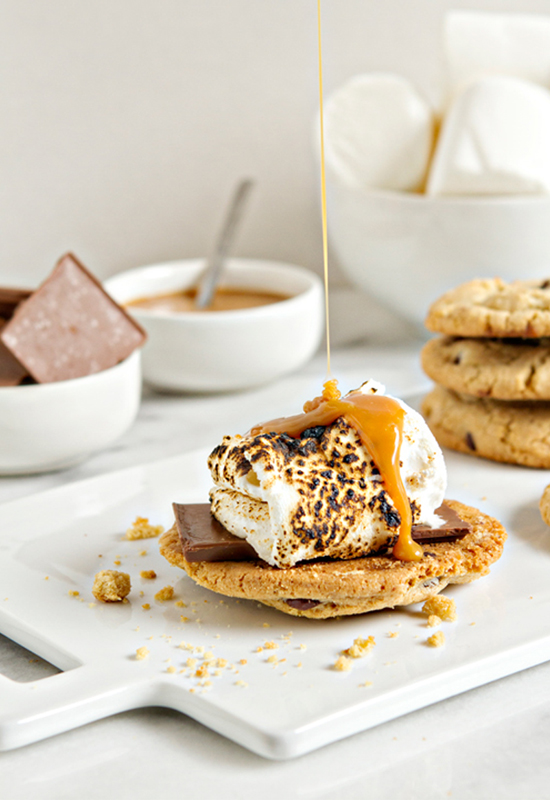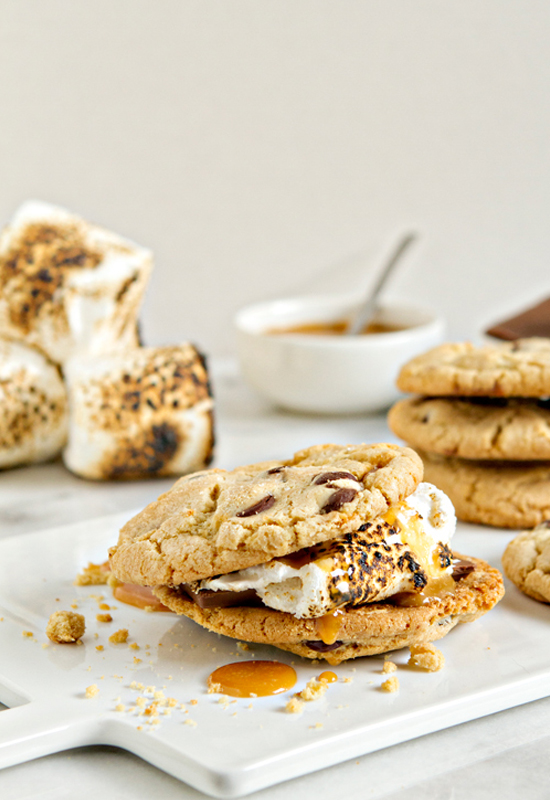 If you've never experienced the amazingness that are Campfire® Giant Roasters Marshmallows – you must pick them up for your next campfire! Heck, I roast mine over the stove, so open flames caused by burning wood aren't exactly necessary. Those burnt, charred, gooey marshmallows are the essence of life, man.
I mean, what more can you ask for out of a dessert; salty caramel – check, ginormous gooey marshmallows – check, melty chocolate – check. The texture of the best chocolate chip cookie paired with a giant marshmallow? You may just pass out.
Campfire® marshmallows have become my go-to for things like rice cereal treats, s'mores and snacking! In my opinion, they're the best tasting marshmallows on the market, and you know since I was pregnant and s'mores became a lifestyle, I pretty much consider myself a marshmallow connoisseur!
Be sure to check out CampfireMarshmallows.com and follow us on Pinterest for more fun and festive recipes and crafts! And more s'more ideas like S'mores Skillet Brownies and S'more Cheesecake!
We love seeing photos of your recipes and how you "Make it with Marshmallows!" so be sure to share your photos with us on Facebook, Instagram and Twitter.
Blog post contributed by: My Baking Addiction