Ingredients:
Graham crackers
Assorted chocolates
Campfire Marshmallows
Cardstock
Ribbon, yarn or twine
box or pouch
Directions:
FREE PRINTABLES

To use, click below to download the file. Print tags on card stock, cut out, and attach to the Indoor S'mores Kit with twine, yarn or ribbon.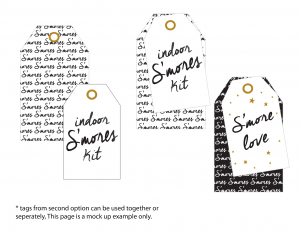 Tags were created  for personal use only.
Gift idea by: MyBakingAddiction

Click here to print