Chocolate Pretzel Cereal Treats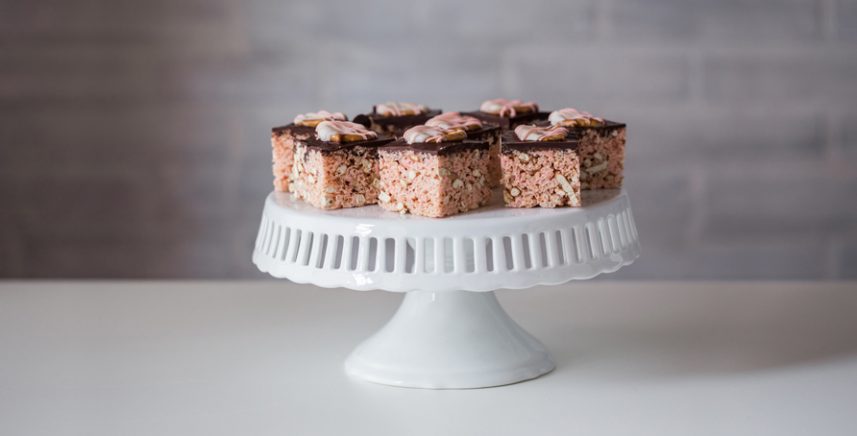 Valentine's Day is such a great holiday, so I decided to make these special Chocolate Pretzel Cereal Treats. Some folks don't really groove on the whole Valentine's Day thing, and I get it, but we'll need to agree to disagree on this one. Valentine's Day is a great day to celebrate love. Whether it's love of a sweet heart, your children, your family, your friends – Valentine's Day is the day to celebrate that love and give it a little extra attention. With treats, of course!
Before our kids were born, my husband and I would have dinner and movie dates to celebrate Valentine's Day. Just the two of us. It was fantastic. Now that the kids are here we still make time for the two of us, often with a date-night-in, but I have so much fun sharing sweet treats with the kids, too. They love getting a little something special for Valentine's Day whether it's a small little gift, a card, or of course, a special treat. With little Miss C's nut allergies, going with a homemade treat is easier and more fun. Marshmallow cereal treats are perfect for her allergies and can be customized and tweaked with just about any flavor combination your imagination can dream up: Chocolate Coconut, Strawberry Coconut, S'mores. You name it and it can be made.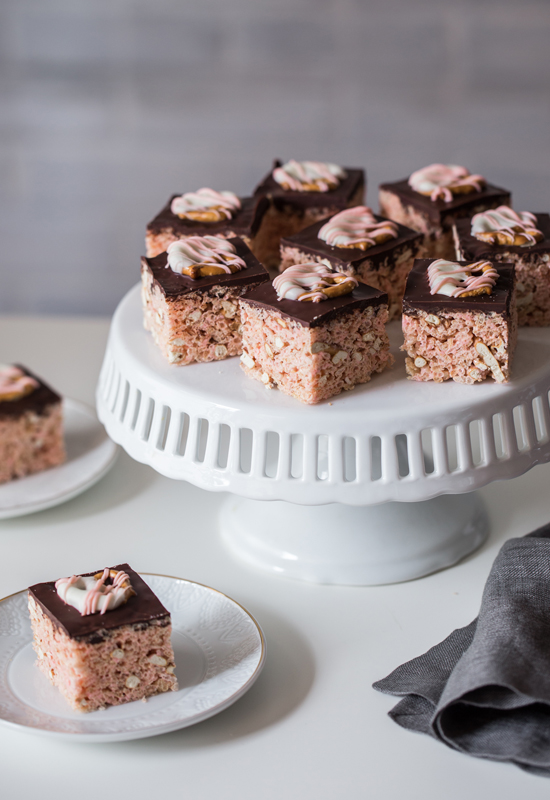 This year for Valentine's Day I am using these adorable CupidMallows from Campfire® Marshmallows. You might remember me playing around with these sweet hearts last year with my Valentine's Day Chocolate Marshmallow Fondue. They are strawberry and vanilla flavored fluffy, heart-shaped marshmallows and they could not be any more cravable. Campfire® marshmallows never disappoint and their soft, pillowy marshmallows are a staple in our house. These CupidMallows melt down and make a lovely pale pink cereal treat. I mixed in some crushed pretzels for a sweet/salty combination that gets me weak in the knees. A layer of chocolate and some pretty chocolate dipped pretzels top off these Valentine's Day Chocolate Pretzel Cereal Treats with a flourish making them something truly special for the people that you love.
For other Valentine's Day ideas, be sure to check out the Chocolate Marshmallow Fruit Candy or the Ganache Dipped Marshmallows! For more fun and festive recipes and crafts go to CampfireMarshmallows.com and follow us on Pinterest!
We love seeing photos of your recipes and how you "Make it with Marshmallows!" so be sure to share your photos with us on Facebook, Instagram and Twitter.
Post contributed by: JellyToast